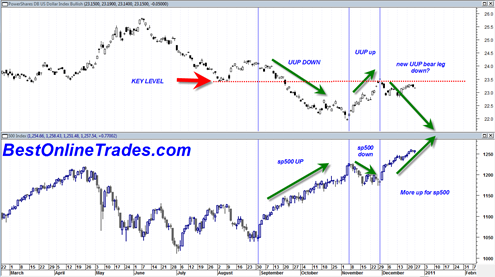 The UUP ETF is currently in somewhat of an interesting juncture.  The UUP US Dollar Index ETF has recently made a second attempt to break back up and through the neckline resistance level that defines a somewhat large head and shoulders topping pattern.
This neckline level of 23.5 on the UUP is key resistance.  We have seen the UUP make a strong reactionary attack back up to this key resistance and then bounce backwards off of it.  In the recent week we saw a second attempt to move back up towards the resistance level but so far the attempt is looking much weaker than the first and there could be possible risk of a downside trend resumption going into end of year and to start 2011.
The picture is still somewhat mixed however and the jury is still out on whether or not we move into a bear trend resumption or yet another attack on the 23.5 resistance line.
The determination of whether the UUP ETF will not continue a bearish trend resumption or attempt and achieve a successful break through of the 23.5 resistance line is a KEY factor that BestOnlineTrades believes could affect the behavior of the stock market going into end of year and to start 2011.
A bearish trend resumption for the UUP could mean another powerful move higher in the stock market and commodities for 'several months'.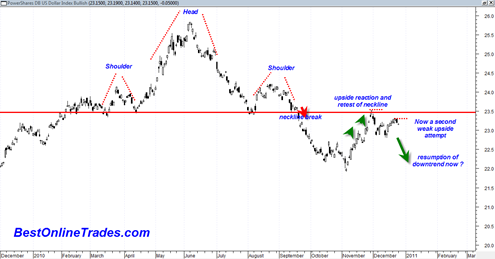 My current take is that the UUP is close to completing this bear market rally and will soon head for downward trend resumption.  However the signal is not clear enough yet.  The UUP needs some more free play in the current range and we need to observe closely if it wants to attempt another attack at the resistance line.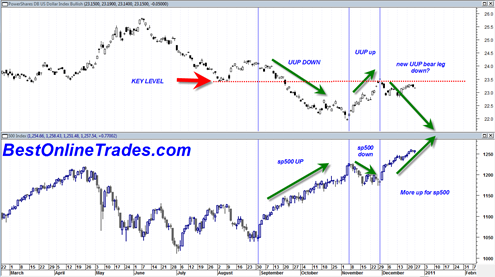 One can see the importance of the UUP ETF in relation to the sp500 above.  It is very important to determine if the UUP is now in a failure mini double top at neckline resistance, OR whether it is hunching for another upside attack above resistance.
Again, BestOnlineTrades.com current take as of 12/27/2010 is that the UUP resumes bear trend down again and shoots stock and commodities up again.