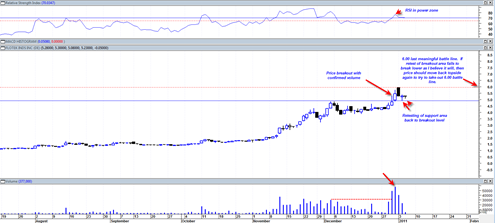 Technical analysts like to see clean price action with confirmed volume breakouts and dramatic volume shrinkage on price declines.  They also like to see clean reluctant retests and clear tradable voids above.
This is what they like to see, but often it can be very hard to spot such perfection.  Many times one will see stocks that at first glance appear to be strong but behind the scenes some big fish is selling into strength or there is not enough real demand behind the stock.  This could show up in the form of weak volume breakouts or sloppy retests.
But once in a while a stock comes along that matches most of the good criteria.
FTK Flotek Industries, Inc looks like it has all the right stuff in terms of positive technical price action.

The longer term view above shows that FTK has a long trading base which is positive for the longer term uptrend picture as this long sideways basing action is a foundation or 'cause' for the new up trend.
The other key point on the longer term chart is the large tradable void between 6.00 and about 10.00.  The relative volume of the last several months is also very positive in terms of the longer term trend.  The volume on the advances has been extremely strong and the price declines have not only been reluctant but the volume shrinkage has been dramatic as well.  It is saying that FTK shares are in tightly controlled hands.  Also notable is FTK's small trading float and still somewhat high short position which could provide more upside fuel for the stock.  I suspect that while many shorts have already covered, we may still not have had the final true 'short covering capitulation' that comes with a series or large up moves.
Flotek Industries, Inc has just recently tested the 6.00 level and pull back off of this level.  In my opinion the 6.00 level represents that 'last battle line' FTK must overcome before it can trade 'more freely' and into this large tradable void.
It appears that after the recent pull back from the 6.00 level that FTK will make another attack on the 6.00 level and likely exceed it.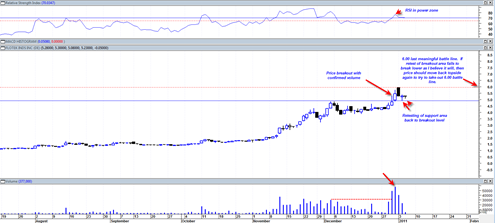 I suspect that the 6.00 level will be challenged next week sometime again and probably exceeded.
The oil and materials stocks are the strongest relative strength sectors right now.
The only thing that would destroy this potentially positive outlook is a break below 5 level.   As long as we hold above 5 and start to trickle up again my take is that FTK will get another run going above 6 which could be a somewhat fast move given the lack of resistance above that level (large tradeable void).