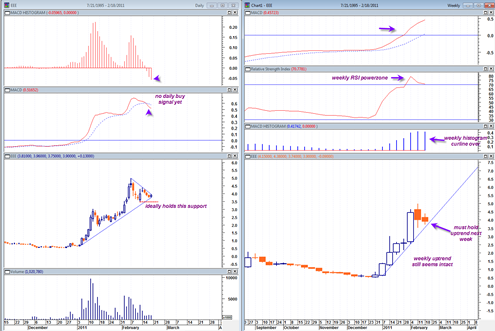 I am going to start watching EEE Evergreen Energy Inc next week and thereafter to see if it 'has the right stuff' for a follow on bullish move left in it.  The stock recently has a huge move up on a supposed new business initiative of "K Fuel" and a possible joint venture project with a company in Australia to market and develop this product to that country.
Evergreen Energy Inc. (Evergreen Energy) is a cleaner coal technology, energy production and environmental solutions company focused on developing technologies.  The Company developed two green technologies: the GreenCert suite of software and services and K-Fuel. GreenCert technology is an environment intelligence solution that measures greenhouse gases (GHG) and other environmental costs enabling customers to manage and report their environmental assets and liabilities. It is built on IBM's Service-Oriented Architecture (SOA). K-Fuel is a clean coal technology, which improves the performance of low-rank coals yielding.
Evergreen Energy Inc also recently did a private placement of 12 million shares during the recent run up.  There is a short seller over on the yahoo message boards who is really trash talking this stock indicating that EEE has a bad habit of issuing new shares and doing 'memorandum of understandings'.
He could be right.  This is no blue chip stock and you just have to look at the stock history to see that it has been a poorly performing stock for long periods of time.  We could probably refer to it as a 'junk stock'.  The stock also recently did a 1 for 12 reverse split to get the share price above penny land.  However one will also notice that the stock did accomplish a huge new upside move from March of 2003 to March of 2006 from 23 to 250 dollars (these are the 12 for 1 reverse split adjusted prices).
So we can see that this stock is capable of getting an extended 'long term' type of run to the upside.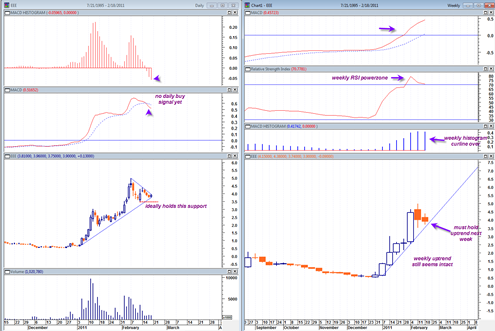 The very long term quarterly price chart of EEE shows that the quarterly MACD is moving into a bullish crossover stance although not quite there yet.  This should be no surprise as a quarterly bullish crossover has already occurred in the major market indices. 
As we see the sp500 move higher seemingly every single day, the tide starts to lift the neglected 'junk stocks' if you will.
The short seller on the yahoo message boards seems to think EEE will collapse soon.  He could be write.  There are always two sides to every stock. 
But instead of me speculating on new share issuances and whether their joint venture is real or not, I will just watch the price closely next two weeks to see if the stock has what it takes for a new leg higher.
The daily chart is showing that it is not quite ready yet.  There is no indication of a real turn in the MACD histogram and I do not really see a clear candlestick sign of a reversal.  However the price is near the powerful steep uptrend line that started this whole move.
The first day of trading next week may be a key day in determining if EEE wants to drift down some more or try to bust back topside again.  I still think it needs a bit more consolidation before any new real move takes place.
The weekly chart on the right side of the chart above shows that the weekly RSI is in the powerzone and the weekly MACD is well above the zero line, a positive sign.  The weekly candlestick chart shows that a huge bullish candlestick occurred 3 weeks ago and the last two weeks have tried to consolidate this move and so far have been doing it in orderly fashion.  The weekly candlestick chart also shows that price is holding the steep uptrend line.  Also weekly RSI closed at 70 this week and would be an ideal location for RSI to reset itself and start to move higher again if this is a true momentum play now.
The weekly chart does seem to suggest that if EEE has enough near term momentum that it could start to run next week.  I will be watching it closely to see if it can start to work on a follow on upside move.  4.38 is the near term key resistance level that needs to be broken through for a real sign to me that EEE is ready to run higher.
I like the potential here and I like how the longer term chart structures look on EEE despite the negative talk on the stock.  I have to trust the chart and price as the best guide… More updates on EEE in the coming week(s).