We are keeping an eye on Edge Petroleum Corp EPEX for a possible decision point in early August.  EPEX is a crude oil and natural gas exploration company.  So clearly the price of oil and natural gas is one factor in the potential future price of EPEX.
I did a brief post on the price of natural gas earlier indicating that natural gas as represented by the UNG ETF is slowly starting to form a bottom.  It probably has quite a bit more work to do at the lows for a clearer picture on a real trend change, but for now the first major guidepost for UNG is the July monthly closing price bar and then the follow through on the August price bar.
We already know that the price of crude oil has been able to get a substantial recovery rally going from the depths of its bear market lows.  Now if natural gas can start a similar trend, we feel it will be beneficial to EPEX.
More important than that however is the actual price action on EPEX.  Lets take a look at what it has been doing.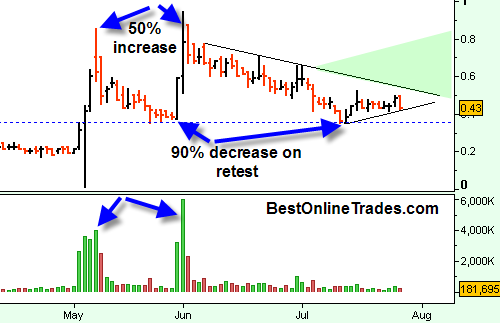 You can see quite clearly that EPEX since the beginning of May 2009 has had two very large price spikes upward and each of them was on substantial advancing volume.  The reason why we like the EPEX price chart so far is because the price swing in early May was tested in the end of May time frame on 50% greater volume.  That is a bullish sign for price being able to eventually eclipse the .80 cent level.
Here at BestOnlineTrades we love to see price swings get taken out on 50% or greater volume because it is a real signal of not only price strength but real demand strength and positive supply and demand relationships.
As of this post it is still clear that EPEX has been in a downtrend since June 1st.  That downtrend is defined by the top downward sloping black line.  However within the past two weeks we do see that EPEX has started a modest uptrend within the larger downtrend.  The volume on the minor uptrend has been very weak however.  The price action has been moving into a slight compression with a tendency to a triangle pattern from the combination of these two trends.
I also find it significant that EPEX tested the early June swing on about 90% less volume (see chart).  That is another bullish sign as far as retests go.  If we test that horizontal blue line again, we want to see another weak volume test and perhaps a bullish spring develop.  I do not know if that horizontal blue support line will be tested again or not, but if it is then that is what to look for.
After any retesting action is completed in EPEX, then we want to look for another attack of the downward sloping downtrend line I talked about earlier.  That would be the first possible signal that a new uptrend is about to get started.
At first glance of this chart one might assume that the price action looks very bearish.  It is bearish in that we are seeing lower highs and lower lows for almost two months now.  But the potential bullish side comes into play on weak volume tests of support and inability to break through the blue support line.
So EPEX at this time is on watch for a possible stock setup.  It is not on the BestOnlineTrades recommended list at this time.  Stay tuned for further updates.