Google News Homepage can be a great way to find out current trendy and frenzied topics that many are searching for and obsessed with.  I have found it quite rare for the "Dow Jones Industrial Average" to be at the very top of the google news top stories sections. 
A few days ago it was slightly more than half way down the list, but today it is number two.
This is a near term contrarian signal that we are getting close to a bottom, and it makes sense also given how close we are to 1250 in the sp500 now.
Count on google news to give you great sentiment readings on the public's perception of the market.  You never want to be very heavily short when you see Dow Jones Industrial Average near the top spot…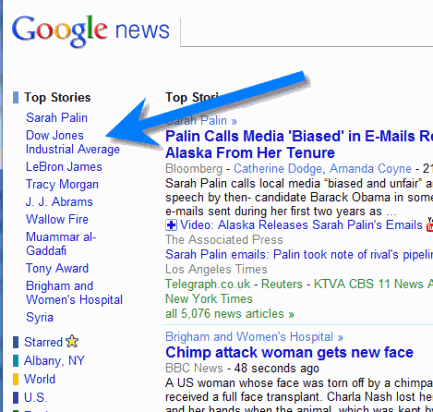 I actually just hit the refresh button a few seconds ago and now the DJIA is in the number one spot! Right near the Marty Armstrong June 13, 2011 turn date on Monday !  Interesting coincidence.