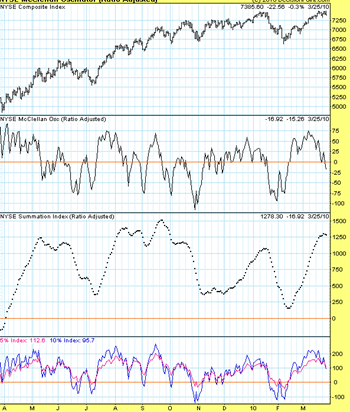 Today's reversal candle was pretty nasty looking and serious enough for me to jump into the TZA Direxion Daily Small Cp Bear 3X Shs 7.50 April Call Options.  I will probably go long the TZA directly or some other inverse bear ETFS tomorrow.
This looks like an important top, but it is way too early for me to be talking about it being 'the top'.  It could just be a swing trading type of top, but it looks serious. 
In addition the Mcclellan Oscillator looks very ominous as I see a double top in price of the New York Stock Exchange and an oscillator that looks ready for a steep decline.  Price usually follows the oscillator down.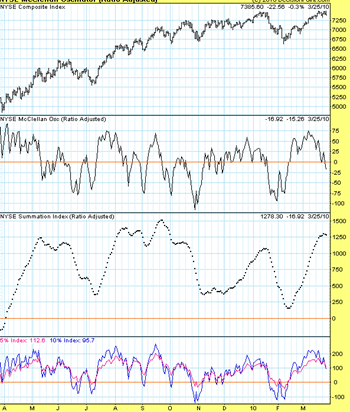 It remains to be seen how well some of the stocks behave in the coming correction.  I just got done talking about how great LVS Las Vegas Sands looks, but if the market as a whole falls apart, LVS is going to have to the 20 level, otherwise a more complex correction could ensue and it would have created a false breakout.
Its funny how yesterday I was talking about not shorting this market until the 50 day crosses negatively down through the 200 day moving average… but then only a day later I am trying to be a hero calling a market top.  I guess it is just too tempting to try to nail an exact top because most of the 'juice' of the decline seems to happen in the first 20th percentile.
If you look at the New York Stock Exchange Composite Index in the chart above you can see that the overall price structure still appears to have this general rounding topping pattern.  You can draw arc over all of the peaks and it shows a technical condition where price advance is slowly weakening.
I still think if you trade and you change your mind a lot, it is a good thing.  It is important to have the ability to switch one's stance on the overall direction of the market even if you were previously very bullish or bearish for a good period of time.