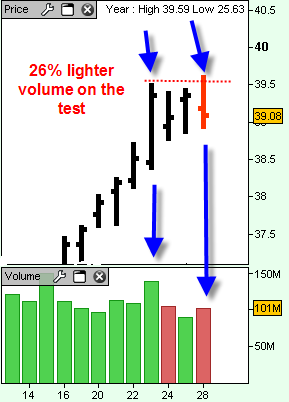 A few postings ago I indicated that for the very short term we may be in for a bit of downside on the SP500.  I believe this still to be the case.  But maybe the QQQQ's can help us along with the signal.
There appears to be a volume sell signal on the QQQQ's. 
Today's price close was under the price swing of 3 days ago AND volume came in 26% lighter.  That is a classic definition of a volume sell signal.
So it is going to be very interesting to see whether or not this comes to pass in the next 3 trading days, the last ones for the Month of July.
No one said that short term market analysis is easy, but this looks to be about as clear a signal as I have seen for the short term.
And if it plays out that way, it would be consistent with what I was relating in the previous post on the SP500 that we are nearing the completion of the July monthly price bar.  So it would not be too unusual for a little pullback so that the close is not right at the high of the monthly bar.
So this is just a brief update but what I am seeing here looks like a confirmation signal to me and that helps instead of just having tunnel vision on the SP500.