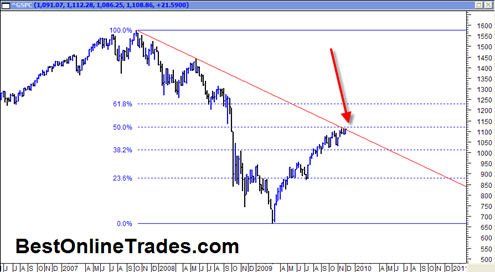 I would be completely remiss if I did not point out once again the important juncture the market finds itself in right now.  The chart above is one which I believe LOTS of people are focusing in on right now.  Why?
Well because the chart above (by the way, it is the weekly price chart) helps to summarize the market in a nutshell and defines some very important parameters that could be very key going forward.
First, it shows the entire extended bear market leg from 2007 into 2008 and then the current massive retracement higher right up to the red colored down trend line that defines this bear market.  So we know that the market at least as defined by the SP500 is perched right under long term resistance.  We also know that this is the THIRD attempt back up to the red down trendline.  The fact that it is the third attempt can be important because usually you will get a successful breakout on third attempts.
But we also know that the SP500 has rallied right back up to the 50% fib retracement level and at least as of now has not been able to break up and through this level.  I believe those in the fib crowd will tell you that if a market retraces up and through the 50% fib retracement level then it gives a very high probability that the previous major low (in this case the March 2009) lows will be a very solid low that is not likely to be broken.
However if the 50% fib level holds here and we break down from here it may leave the March 2009 low more vulnerable.
So you have the red down trending resistance line and a 50% fib retracement level here that are acting as resistance.  It is worth pointing out that the Nasdaq Composite has already busted through its bear market down trend line and also busted above the 50% retracement level.
Anyway I think my main point here is that being cautious at this juncture is not a bad idea.  Yes there are still plenty of bullish setups out there, but if you look at the SP500 chart above all of that can change on a dime.
Also the XLF financials ETF looks quite weak and I would say a downside break through 14 level could accelerate some bearish feelings in that market and others as well.  The XLF is a weak looking index.  It has evaded bear signals what seems like forever, but I can tell you that if 14 is broken decisively to the downside then we may really finally be ready for that 10 to 15% correction I have been talking about.  The reversal candle in the XLF looks very bearish to me today combined with the high volume and the way it engulfed the last 3 trading days.
I cannot say for sure whether or not the XLF still has that broadening topping pattern anymore.  It may.  And I know that these can be long forming patterns that do not crack until the last minute. 
If the market starts cracking here then gold will likely get hit too.  I sold TLR today just to be on the safe side and am a bit concerned on its lack of follow through. I may jump back in in the next few days but I want to be real cautious at this juncture in the market.
The dollar index looks like it is pinned below the 75 level and may stay below there until end of year which could help hold the market up for a while longer.
So in summary, a good idea to be on the look out for trend change here or at least open to the possibility.