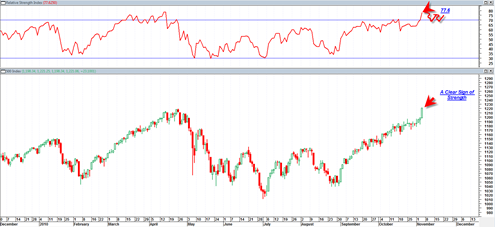 Today was a clear sign of strength in the sp500.  Today we printed a marubozu candlestick on the daily chart which is a clear sign of who is in control of the tape.  There was almost zero bottoming tail and almost zero topping tail on today's candlestick.
Signs of strength are great, but they still need to be consolidated.  It is possible we could get some more follow through tomorrow, but we need to keep in mind that the sp500 is quite overbought in terms of the RSI which is currently in nosebleed territory at 77.6 today.
My expectation is that we will see the sp500 start some type of short consolidation either tomorrow or next week that will essentially reset the RSI overbought level and perhaps slam it back down to the 70 range again.  Somewhere near that range is where I think new longs can be added for a renewed run higher.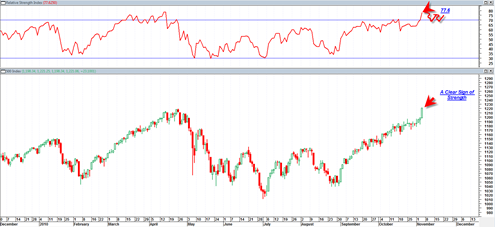 This type of behavior of the RSI versus price may continue on for quite a while longer whereby the market pushes RSI higher, gets overbought and then initiates small short term sell offs that bring RSI back down near the 70 range.  So near the 70 range in the RSI is what I view as new buy points.
Part of the logic I am trying to work with here is the presumption that the market is now working in the 'power zone' with a clear and persistent trend north.
The possibility exists that we could get a deeper selloff when we see the NDX 100 reach key resistance levels as I wrote about yesterday.  So keeping a close eye on the NDX 100 is not a bad idea in my opinion as it seems to be the lead sled dog anyway and could be the first move on the downside as well for the inevitable correction.
My current take is that when the correction comes in the NDX 100 it will be more of the variety of a 'shotgun' type correction.  In other words, it would be likely short sharp and contained so that it sufficiently resets the overbought levels of the market.  Thereafter I expect plenty of more upside.
I do have to say that it is almost astonishing how similar the current rally is resembling the 1975 recovery rally.   The 1975 recovery rally was just as persistent and relentless.