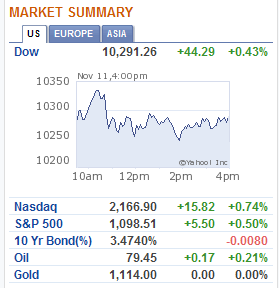 Congratulations to Yahoo Finance!  Have you noticed this yet?  Yahoo Finance on their homepage has included both the oil price and the gold price on their main quote summary section on the top left of their site.
Previously there was just the Dow, Nasdaq S&P500 and the 10 Year Bond, but now they have included these two commodities on their main page.
I believe this occurred near the time when gold hit above 1000 per ounce.  Perhaps it was some time before that (I don't have the exact date) but still I find it to be a fascinating psychological trading imprint of sorts in the history of the gold/commodity bull market so far.
By putting oil and gold on their main home page finance section they have legitimized this market sector and maybe opened the doors for more mainstream investors to come into or at least follow the commodity market.
But I consider Yahoo Finance to be more cutting edge and on top of more subtle market trends.  But still, it took them until 2009 to finally acknowledge gold and oil on their main quote page.
But the REAL psychological indicator that the gold price is nearing a major psychological peak will be when TV networks such as CNN HeadLine News, or just regular CNN start to show the gold price along side their usual Dow, Nasdaq and S&P500 quotes at the bottom right hand side of the TV screen.
CNBC probably falls in that category as well but maybe not as much as the other TV news networks I just mentioned since those are not primary geared towards finance.
I don' t know if the major news TV networks are going to put the gold price down there during the first major leg up in the gold price or if they will wait until the mega blow off climax peak that occurs maybe 5 to 10 years from now.  Either way it will be interesting to see at what point they catch on to the fact that gold is 'hot' and that everyone needs to buy it because it is moving persistently.