Well for a little while anyway.  I am glad I finally recovered from my own personal 'October scare' watching the market last week and feel that I have at least half my sanity back now.  So I am gonna run with a bulls a bit more and see what I can find.
The bottom line is, if you show me a good chart whether it be a stock or an ETF, then it is worthwhile exploring if there is some potential regardless of what the rest of the market is doing.  It may mean that you have to use tighter stops to control risk, but might as well go with the predominant trend force.
A Stock is Never too High to Buy and Never Too Low to Sell
That is the quote from Jesse Livermore that I paraphrased a bit.  I don't know the exact quote, but I am writing it again because I think it is a very important point.  But again, manage risk prudently and use tighter stops and closely defined entries.
Buying stocks 'high' is also referred to as 'momentum trading'.  I believe statistically it may produce more winning trades than any other method for the simple reason that you are making trades along side the predominant force in the market and in many cases that force is likely to continue.
In the past I used to be afraid to trade momentum because I could not remove the blockage in my mind how scary it is to 'buy high'.  Not anymore.
So that brings me to TA Travel Centers of America.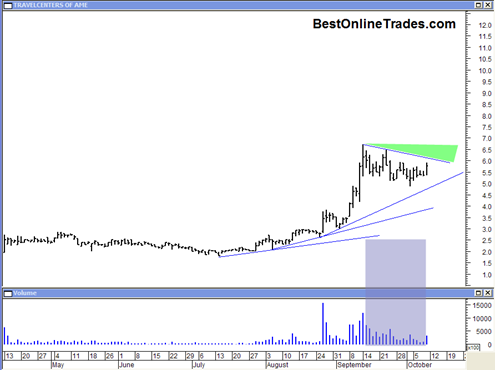 This company is in the rest stop business for truckers and passenger vehicles who need a break on their road trips.  They have gas stations, convenience stores, showers, restaurants, and services for truckers at rest stops across the country.  Apparently the trailing 12 month revenues are close to 3 billion, but they are far from a profitable operation.  We are talking low margins here.  But still, the stock is acting well and it looks like it wants to get some momentum going on a broad based recovery in the economy.
I like the chart structure, the volume on the advance and the weakening volume on the recent 1 month consolidation.  The stock seems to trading in an upward arc of sorts and today had a nice pick up in volume.  If it can manage to get into that green shaded area I would like to go long and run with the momo crowd for a while and then set a stop not too far below my entry.
I am not sure yet if it still wants to go sideways for another week or two and touch the most recent up trendline.  That scenario is going to be much less likely if it can get a full price bar into the green shaded area.
The weekly chart looks even better on TA because it has a nice long based about 1.5 years long and is not coming off of this based on good volume.  So I think we are still in the first third to half of the entire run.
I can see TA getting to 10 at some point, maybe by the end of the year.  There is not much resistance from here all the way up to the 10-11 area.
I am definitely going to be watching this one like a hawk the next couple of weeks.