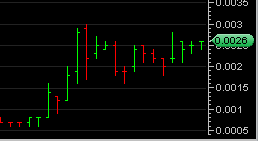 IDOI, the pinksheet penny stock that you have already heard me mention several other times still has a constructive look to it.
I mentioned earlier in the week that I wanted to see it move by either yesterday or today. Well so far that has not happened and I am willing to give IDOI a little bit more benefit of the doubt.  It is getting some late day hits at the ask here on this slow Friday.
The reason why I am not giving up on IDOI yet is because instead of price continuing a slow and slopping downtrend that it was on track to do, it has instead popped its head up with decent volume and held up above the mid .002's range quite well so far.
Of course all of this could change in a New York minute on Monday morning, but as of this writing I have to say the behavior of it is quite admirable.  I don't know if I am going to keep a formal list of recommendations for these sub penny stocks and penny stocks that I cover.  Perhaps I will keep a more informal list just for record keeping.  So basically that means that I don't think I will keep publishing an updated list.  However I will occasionally publish a list based on what I have talked about and what it ended up doing.
So informally lets put IDOI on the list with an entry of .0025.  I think that is reasonable since I have been talking about it for about a weeks time now.
I think what I will do is create a summary page of all recommended penny stocks and sub penny stocks.  It will not be updated in real time, although I will try to, but that way I don't have to keep posting the list within the article postings.
By the way, on the assumption that IDOI works out (we will have to see if it does) there may be the possibility of a 'double play' with BEHL which is the other pinksheet penny stock I posted about yesterday.  When I say 'double play' I am referring to the possibility that one of these penny stocks will move up first and then immediately after exiting, there may be an opportunity to jump into the other one.  Of course this is all probability talk for now.
Next week will provide a clearer picture. Stay tuned.