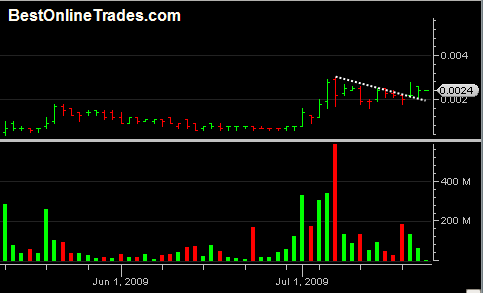 IDOI, the pinksheet sub penny stock that I have mentioned a couple other times could be at an interesting 'tipping point' going into today.
I mentioned in an earlier post that I preferred it to make some kind of move this week otherwise I would not talk about it again.  Well we are almost as the end of the week and price is hovering right near the breakout zone, but still we have no confirmed move as of yet.
The price action the last two days has been constructive and the volume was significant.  But I have to say that IDOI really needs to do something today or tomorrow.  If it doesn't then it is telling me that something else is going on and I don't want to be a part of it.
I definitely do not want to see anything below .002 on IDOI either today or tomorrow.  IDOI is in the zone now, has the stage and needs to start dancing, otherwise the show just cannot go on.  That is my take on it right now.
You know these pinksheets penny stocks can really be deceptive sometimes.  I have seen hundreds of them that look very ripe for a breakout only to change their mind last minute and then break down and crash in flames.  So I think the best approach to take on them is that they really have to prove their worth, otherwise it is a complete waste of time and money too.
So anyway to sum up, yes I am giving IDOI still the slight benefit of the doubt up here in this range, but the music needs to start playing and very soon I might add.