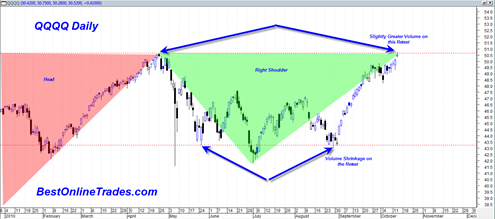 The PowerShares QQQ Trust, Series 1 did something important today.  They hit a price high of 50.75 which resulted in a test of the April 26, 2010 price swing high.  We also closed under the April 26 high today but the key is the volume comparison.
The volume today was in the 70 million range.  On April 26, 2010 the volume was 67 million shares.  So we are well within the requirement of showing equal or higher volume on this retest.  If today's volume was 40 or 50 million shares it would have been a very bad sign.  It would probably have hinted at failure on this retest.
Instead we got slightly better volume than the April 26, 2010 swing high.  This is a bullish sign and implies to me that we will eventually break above 4/26/2010.  We can still get a pull back going soon and we probably will (maybe even tomorrow) since we tested the swing high and then closed below it.  But the volume is saying that after the correction is over we should eventually break higher above the highs of 4/26/2010.
Today's volume test is the opposite of what was occurring at the lows on the PowerShares QQQ Trust, Series 1 .  At the lows the QQQ was showing a significant volume contraction relative to previous important swings and was indicating a move back inside the swing trading range.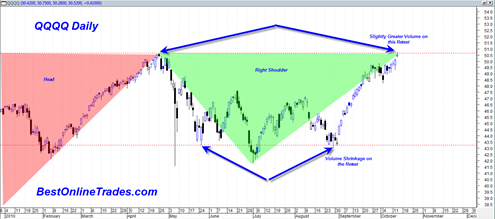 The chart above shows the large head portion colored in red and the right shoulder portion of this very large head and shoulders bottom formation previously discussed here at best online trades.
A move above today's high could lead to an enormous breakout given the size of this overall pattern.  However at this point I am not quite sure it is ready to bust higher.  We may get some more consolidation in the current range before any significant move transpires.
The manner in which the QQQ paused during the last few weeks is a constructive situation.  It probably would have been quite bearish if instead the QQQ just zoomed right back up to today's swing high, without a minor pause before hand, because then there would be more possibility for exhaustion.  Instead, the QQQ took a little breather for a few weeks before attempting today's test which is constructive.
The next major resistance point on the QQQ is the 54 range.  The 54 range coincides with the November 2007 price peak which clearly has some significance both psychologically and market wise.  That level is likely going to cause some type of selling event.  How deep is unknown for now.