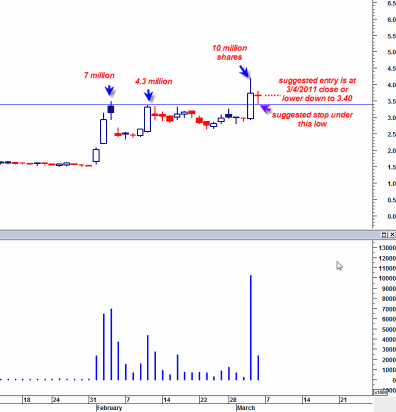 Technical glitches have prevented me from posting this in a timely enough manner, but here it is.  The stock I am selecting as a 'Best of the Best' setup is SCON Superconductor Technologies. 
They are set to release earnings on http://biz.yahoo.com/cc/9/120889.html (March 10, 2011 at 11AM Eastern Time).
My thinking is that SCON could be a good mover until right before the close of March 9 this week.  The way SCON is setup right now suggests it should start to run on 3/7 tomorrow morning for three days into earnings.
The stock completed a sign of strength breakout above an important resistance level that appears to be a horizontal supply line of an ascending triangle type formation.
More importantly SCON broke this recent resistance on MORE than adequate volume.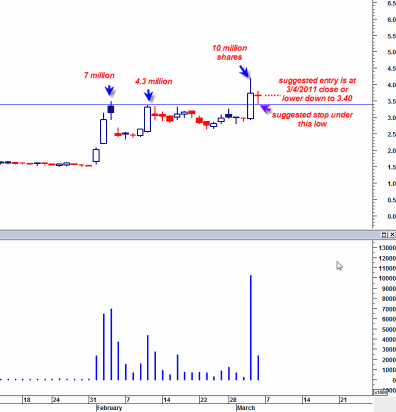 The high volume 10 million share breakout followed by the doji consolidation and retest of support on DRAMATICALLY lower volume is telling me SCON is ready to super conduct higher this week likely into Wednesday 3/9/2011.
As long as SCON does not violate the low of last Friday (3/4/2011), then I think it has high odds of trending higher the next 3 trading days.
It is not recommended to hold through earnings which occur on 3/10/2011 as typically one sees a 'sell on the news' type situation.