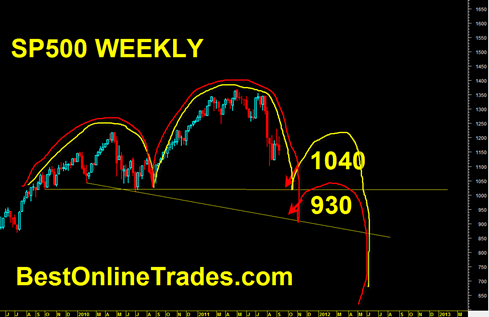 There are two simple scenarios for the great crash of 2011 right now.  BestOnlineTrades continues to chart these uncharted waters catching the big moves in the market.
The first scenario (assuming the near term bearishness is correct) is for a drop to the highly anticipated and expected 1040 level (by most technicians).  Then a QE3 BOUNCE to create a right shoulder to maybe 1200 or less.  That would create a big head and shoulders topping pattern which could then lead to another huge downside move with eyes on the March 2009 lows.
Second scenario which is not widely anticipated is a move to a DOWNSLOPING neckline which could lead to 920ish 930ish on sp500 which would still create price stopping on a neckline and lead to a huge QE3 bounce, however that bounce may only travel in a worse case scenario only to 1020 or maybe 1100.  That would be a tougher call for a right shoulder calculation because we would have to assume that price could break back up and through the horizontal resistance.
The assumption here is that we would decline down right into Fed meeting which is in about 7 to 8 trading days and then bounce on QE3.  But one has to wonder if there is still a chance we meander sideways endlessly for another 7 to 8 days and THEN drop on the Fed meeting which does not deliver QE3?
My take is we are ready to head south now and dive into QE3.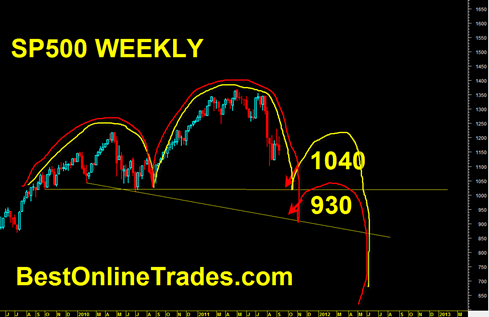 Admittedly it is quite scary being so bearish when the bearishness is already so thick right now.  But everything seems lined up for this drop.  VIX blasts higher again seems poised to take out 48.20.  Currency shake ups.  Volume starting to increase to downside again.  Real money coming back from Sept vacation…
The yellow head and shoulders is the less bearish version and the red colored head and shoulders is the more bearish version.