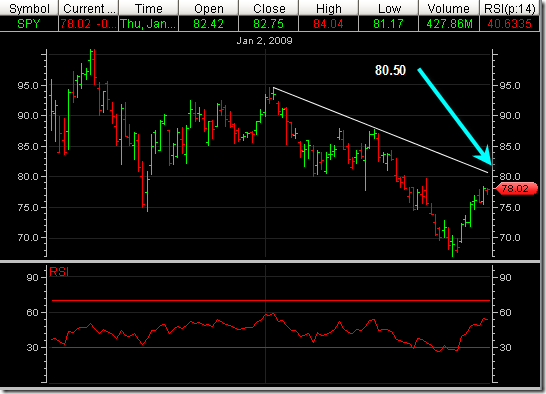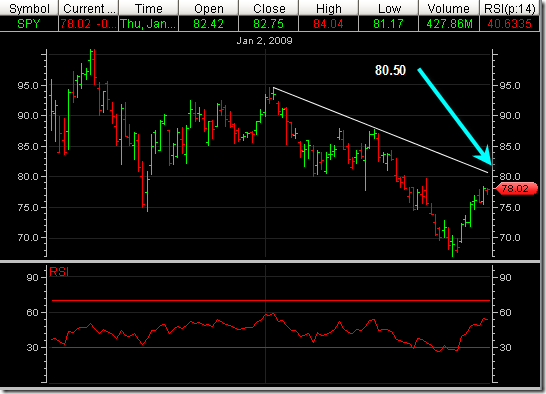 Right now the SPY ETF continues to show near term strength and follow through on the day of the fed announcement later on today.  This has been quite a persistent rally and I suspect has caught many off guard considering how bearish and bleak things were looking only a couple weeks ago.
I have to admit it absolutely fascinates me how at one point the market can be projecting a total end of the world scenario but then only a week later it seems like we are all in heaven and nothing but optimistic about the future.
Anyway, we do seem to be coming up on a crucial juncture at least with respect to the SPY ETF, the proxy for the S&P500 index.  You can see in the chart to the  left that we have a respectable down trend line that has its formation based on the January 6, 2009 swing high and then the February 9th, 2009 swing high.  We are only a couple points away from touching this down trend line again, this time for the third time.
The relative strength index is in an area that in bull markets is still somewhat modest, about the 50 to 55 level.  But if we are still in a persistent bear trending market then this RSI level reflects an area that would be a typical turning point before moving down again.
So what do I expect next?  Well I think we have a good shot at making it up to the 80.5 area on the SPY ETF.  That would put us right under this down trend line resistance point.  At that point I would expect us to enter some sort of retracement phase perhaps down to the 75 area?  the nature of that retracement will have to be watched carefully to see if price can hold ground and volume stay light.  If it manages to do that then it opens the door to another attack on this down trend line and possible eventual break through it.
At this point I would not be surprised to see us break through it.  Oh, and by the way we need to pay attention to the last 2 weeks of March because that is going to give us the MONTHLY closing price bar.  So far it looks as though the March monthly closing price bar could look very bullish which would bode well for April.  I will keep track of this and do an update post on it later.
I would not be surprised to see us break through it based on a long term article I wrote on the Dow Jones Industrial Average.  But anyway for now lets not chew on too much and just focus on this down trend line and the behavior around that area.  It is best to take this market one small battle at a time, otherwise a bit too much brain damage starts to kick in!