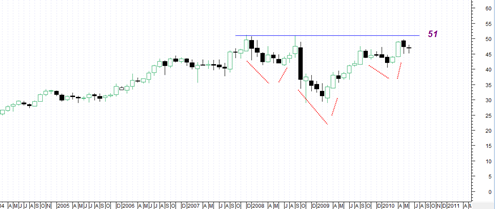 Ecolab Inc ECL is a slower moving stock that has a long duration head and shoulders bottom formation.  This one also came up in the BOT power metastock scan yesterday.  It is a stock that moves slow but and take long periods of time to develop trends but it could have a possible 20 to 30 dollars of juice in it if it can get above 51.  But a 20 to 30 dollar move in this stock could take 6 months to a year to develop.
But again, this head and shoulders formation is forming at the top of a long trend, so it is not the most ideal, but still something to be watching here in my opinion.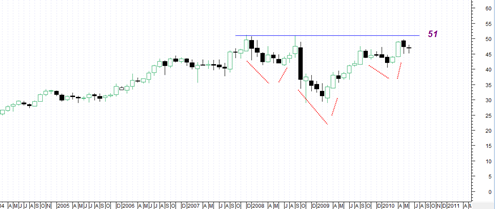 The head and shoulders pattern is significant in that it is about 2 and a half years long.  This is no small feat and important in terms of cause.  But the supreme challenge is getting and staying above 51.