Before I even begin to talk about CVRG let me say this.  CVRG is a PINKSHEET penny stock that is extremely speculative and has all the normal disadvantages that normally come with pink sheet stocks.  I consider penny stocks in some ways less risky than options because they do not have time decay, premium and expiration, but that does not mean they still cannot cause major heart ache.
I made a decision a while back not to talk too much about pink sheet penny stocks here at BestOnlineTrades because they are an entirely different animal and just do not seem appropriate to mix in with all the other 'big board' topics I cover here.  But occasionally I make an exception and I am doing that now.
So having said that, and since I have free editorial reign here at BestOnlineTrades I want to tell you about CVRG, Converge Global.  It is a pinksheet gold mining penny stock.  The ONLY reasons I think CVRG could become a nice play for the next 2 to 3 months are because of the technical setup that exist within CVRG and also the backdrop of a parabolic exploding gold and silver price.
We have already seen a number of gold mining penny stocks blast higher in recent weeks and I expect this trend to continue.  SGCP (Sierra Gold Corp) up 900% from its recent lows, BRYN (Bryn Resources) up 4042% from its recent lows, KATX (Kat Exploration) up 1035% from its recent lows.  So clearly speculation is ripe and the gold mining pinksheet penny stocks are on fire and in heavy demand.  Part of the reason for this is simply a matter of supply and demand.  There are so few gold stocks to choose from that what you will see is 'gold money' funnel more easily into the micro cap gold mining plays on pure speculation and lack of other choices.
I think CVRG has a really good shot at getting to .18 cents (it is currently at .037) and I also think it has a good shot at TESTING its old spike high at .45.  I believe the smart money will hold CVRG until it tests its old spike high at .45 
Taking the low price of .03, lets calculate what kind of percent returns would occur if CVRG got to .18 (which happens to be the .382 fibonacci retracement from the .45 cent all time high) and .45
.03 to .18 would be a 500% return and .03 to .45 would be a 1400% move.  Those two percentage gain possibilities are certainly within the range of recent percent moves we saw in SGCP, BRYN and KATX.  So for CVRG to go back to .45 is definitely within the realm of possibilities in my opinion.
But there are a bunch of possible technical reasons why this could be so as well.
For starters the .45 swing high that occurred in CVRG was a massive blow out swing high that occurred on massive volume of 16 million shares.  So it was a higher high on all time high volume and it was never tested.  That means that it has to be retested at least in terms of classic volume swing analysis.  If you do a higher high on higher volume then that higher high will be tested again.  Had the .45 swing high only been on something like 2 million shares or so, then it would not have to be tested because it would have been a lower volume test of the daily swing 1 day before it.  So there you have the volume case for .45 being tested again.
There is another reason as well.  It involves the overall structure of the CVRG chart.  The overall structure is that of a rounding bottom formation.  These can be very large formations that occur over very long periods of time and have the appearance of a saucer or arc that defines shares gradually changing hands from the bears to the bulls.
What is very interesting is that the entire structure of the CVRG setup is quite similar to the 30 to 40 year structure of the silver price except that the silver price structure is drawn out over 40 years while the CVRG setup is compressed into just 1 year.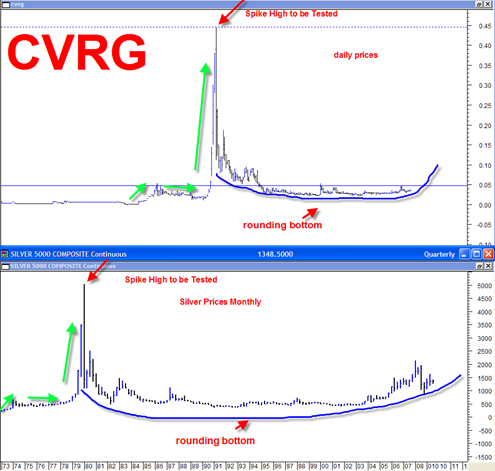 If you look carefully at the chart comparison you can see that the spike high in the silver price to near 50 correlates to the spike high in CVRG.  And then the large rounding bottom formation after that spike high correlates to the rounding bottom formation in CVRG.
I know for a fact that the silver price will retest the old 1980 high of 49-50, possibly as early as 2010 because of the large rounding bottom formation.  So knowing that the chart structures are very similar it is not too far a stretch to conclude that CVRG will get to .45 and possibly higher after that because CVRG also has the large rounding bottom formation and as I already pointed out the positive wide open high volume swing high of .45 that needs to be tested.
High volume swing highs like that are usually never left alone, they are eventually retested.  So combined with the silver comparision, the rounding bottoms and the volume swing analysis, quite an amazing price appreciate picture seems to be in the cards for CVRG.
I would not be surprised to see CVRG surpass .45 and head onto 1.00 afterwards given a scenario of 'extreme gold fever'.  A move to 1.00 would put the return from .03 at 3233% once again that may seem extreme, but extreme has plenty of company during a gold price explosion and mania.  During the 70's gold bull there were exploration mining stocks that went from pennies to HUNDREDS of dollars per share.  It was the most unbelievable mania of all time. There was a company called Lion Mines during that time that went from .07 to 380 dollars per share, or a 542757% return! So 1000 shares at .07 cents in Lion Mines would have turned into $380,000 had you held to its peak several years later.  Granted it took several years for it to get such a huge return, but you can see the power of buy and hold at certain points of any bull run.
The first leg in CVRG from February of 2009 to May of 2009 was a 89000% move so clearly that was an enormous sign of strength.  It took about 3 months to achieve that return. 
I suspect that the rally from this rounding bottom in CVRG should also last about 3 to 4 months.  That would be consistent with the gold price move as I believe the gold price has at least another 3 to 4 months of strong upward movement in it before entering the next major corrective phase.
So I gotta tell you sometimes these pink sheet penny stocks are worth consideration.  They are to a certain degree 'gambling money' but as I pointed out at the beginning of this article, options are in many cases worse investment vehicles than penny stocks.
So it is going to be very interesting watching CVRG into the end of the year.  I view a move above .05 ( and holding above that level) in CVRG as a significant signal that something much greater is about to happen as .05 is a critical level that if breached would then turn into solid support and then support a continued rounding bottom type advance into the higher levels I alluded to earlier.