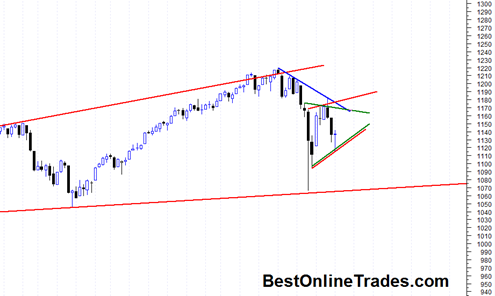 The sp500 had a pretty strong reversal today and ended up with a reversal candlestick that normally has bullish prospects after its formation.  I think that will be the case, possibly for the rest of this week.
But if the market does not reverse higher by Wednesday at the latest then it could be a sign that today's reversal was a head fake in a persistent down trend.
So it would appear that the market needs some more time to consolidate the huge May 6, 2010 price swing before deciding which direction it wants to travel in with conviction.
The MACD and the RSI are still both in a stance that tells me we could still follow through to the downside the rest of this week.  However a very big up day tomorrow and Wednesday could start to change that.
I still think the market wants to maneuver around this May 23, 2010 astro date.  And trading up into that date would probably set up a more bearish scenario than trading down into it as a low.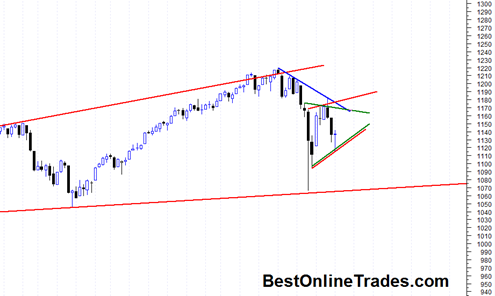 On the chart the solid green lines show how the market could trade and coil up into a symmetrical triangle during this week.  The small red trendlines show how the market could trade higher in a rising wedge formation.  If either of these patterns emerges, both would still likely have bearish resolutions.
The market needs to close under today's low to signal that a fast retest of the May 5, 2010 low is on deck this week.