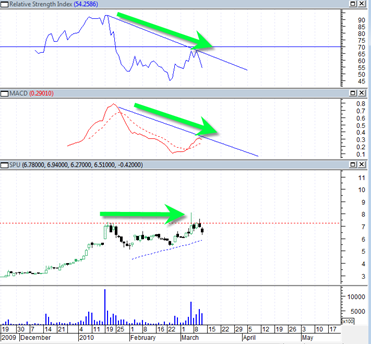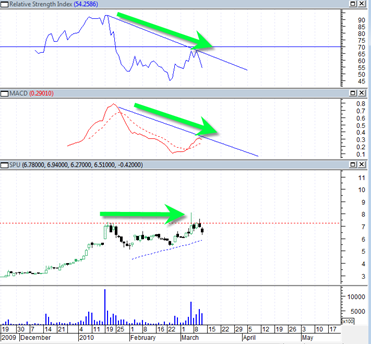 One of the most frustrating things about stock trading is when a stock or index approaches its recent highs and then fails to break through.
One of three things can happen.  The stock can form a double top and then break down badly by breaking recent support. 
The second thing a stock can do is test the recent highs and then pull back in a shallow handle on low volume as old buyers at the previous high desire to get out of the stock.  So when the stock pulls back, it is ideal for the pullback to be contained and to hold support, most preferably forming a right handle of a cup and handle formation.
Lastly, a stock can reach the old highs and then do a very minor pullback while barely stopping to take a breath and then just break out higher and not waste any time.  In my experience it is rare for that to happen.  Usually there are boatloads of people who still want to get out at the old high and that causes some temporary damage to the stock.
The situation with SPU right now is that it really needs to hold its low of today of 6.27 for me to stay constructive on it going forward.  I do not want to see it violate that low in any shape way or form.  Rather I would like to see it trade choppy and sideways between that low and the recent highs.  That would setup the possible creation of a handle pattern, helping to finish this setup into a cup and handle pattern.
I don't like the look of the RSI (Relative Strength Index) right now and the MACD versus price.  It is showing a bearish divergence or the moderate variety.  The stock is going to have to maintain its composure above 6.27 and then head higher pretty soon in order for this bearish divergence to be invalidated.