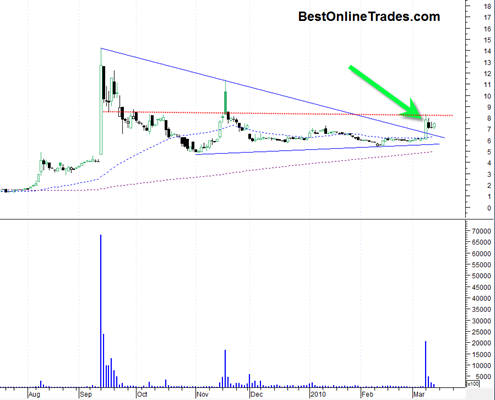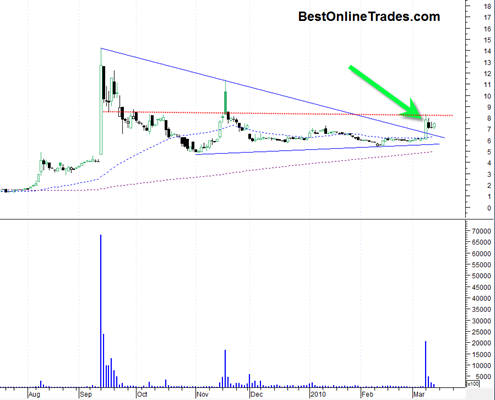 If you had to do an honest comparison between Sky People Fruit Juice (SPU) and Zoom Technologies (ZOOM) I think at this point I would have to say that ZOOM is the winner in terms of risk/reward.
My thinking is that ZOOM has a lot of sideways cause building, all the way back to September 2009.  Secondly it has broken out north with a sign of strength in terms of volume and price through the downtrend in existence since September 2009. 
SPU on the other hand has already made a significant move and is currently retesting its old highs.  It has to maintain its composure now otherwise there is a risk of a more complex break down pattern.
So a lot of the benefits of ZOOM has to do simply with the fact that the amount of uptrend that has occurred so far is quite minimal.  In other words the amount of sideways cause that ZOOM has used up so far is slight.  What ZOOM does not have going for it yet is a well established uptrend.
It appears that ZOOM is more a hit and run type of stock that tends to trade more like a biotech stock rather than a slow uptrending stock.  In general, small low float stocks tend to trade very sporadically and so the best thing to do is try to take shotgun type profits whenever possible.
What ZOOM must now do is prove that it is willing to get a new up leg going.  Ideally it will trade flat to sideways for several days more and then get enough juice to move above the 8 and change level.  Above 8 and change is a possible signal to me that ZOOM is ready to zoom again 🙂 .