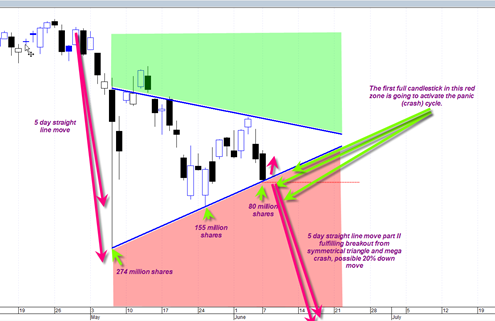 This is just a short post.  But I wanted you to see this chart of the QQQQ's again.  It clearly defines what is going on here and I think if you do not have this chart you are flying blind.
Basically it is showing that the QQQQ's PowerShares QQQ Trust, Series 1 have elected to break down out of the large symmetrical triangle and may fulfill the measurement rule in the days ahead, perhaps about 5 to 10 trading days ?
The close is critical today.  If we get a reversal hammer back within the triangle then the market saves itself for another day.
But if we close near the lows today then I have to conclude that Part II of the flash crash began as of today…
Should be an interesting close…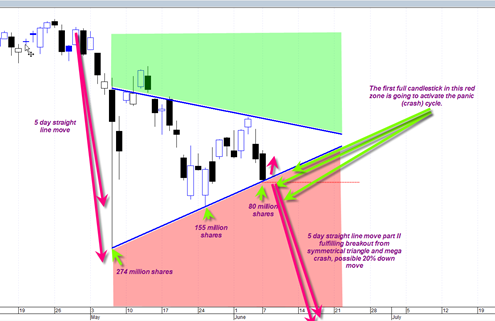 Note the volume contraction on the three touches so far at the bottom of the triangle.  The contracting volume confirms the structure of the pattern and shows that it is COILING UP for another very violent and fast move. 
THE MOVE WILL COME OUT OF NOWHERE.  That is typically how moves come out of symmetrical triangles.
Triangles can also fail and do false breakouts..  but the implication for me is that we get a continuation move DOWN out of this triangle.
The red colored zones is the shorting zone and the green zone is a total failure of the bearish tendencies.