Hi Ho Silver!  Silver is a leading indicator for gold and the stock market apparently right now.  It has blasted today to new 52 week highs and the RSI is currently right under the powerzone level of 70.  A blast above RSI 70 will send SLV into the powerzone and we could see some more big moves to the upside.
Gold was also strong today, but silver is leading the pack.  I suspect that both gold and the broad market will head higher again soon and silver wants to lead the way. What a great leading indicator.
Volume today on the SLV ETF nearly doubled what it was yesterday, a positive sign.  When I say that the SLV could see some extended big moves I am speculating this to be the case for the simple reason that silver is in a strong parabolic portion of its move where momentum is at an extreme.
Of course this is nice as long as the SLV keeps going up, but nothing grows to the sky forever.  Eventually there will be a violent pull back, especially in the more volatile silver sector.
It is a good idea to draw tight up trend lines and then just stay long as long as the up trend is not violated.  If it is, then it is the perfect excuse to stand aside until a clearer picture develops.

Silver is trading on monster momentum and is leading the gold market to possible new 52 week high breakout soon as well.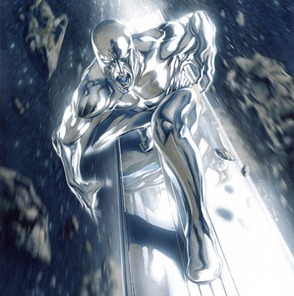 I will be quite interested to see if the silver market moves into a true parabolic type upside move.  If it does, then that could mean multiple upside gaps that go unfilled.
Commodity markets are one of the few types of markets where I have seen RSI (relative strength index) levels get maxed out to the +90 range or even higher.  This is a rarity in any stock or index, but I have seen it occur for the most part only in commodities.  It speaks to the nature of supply and demand.  Small supply, with somewhat limited liquidity and huge demand, that equals RSI readings occasionally near the +90 range or higher.  We will just have to wait and see how far this silver train can push before the next correction…
By the way, in case you are not aware there is also an ETF that tracks the price of silver but in double leverage fashion.  The symbol is AGQ, but it is quite expensive on a per share basis at 222 dollars per share.
MarketClub's Chart Analysis Tool gives SLV Max Positive Ratings:
iShares SILVER TRUST (PACF:SLV)

Strong Uptrend

Full Chart Analysis and Up to Date Trade Triangle Signals on SLV