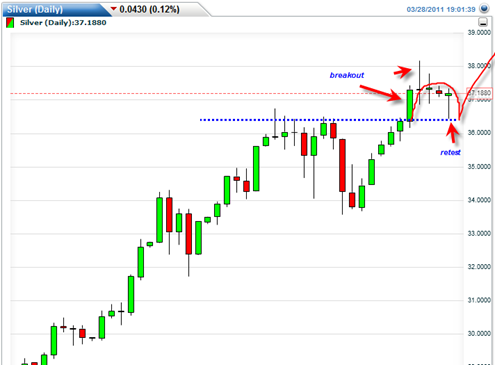 Silver Futures seem to have managed a successful Wyckoff Retest of the near term and short term support range of 36.43.  Today they printed a hammer reversal and the low of the hammer was the break out level of 36.43.
In the short term I think it is important to hold 36.43, or the low of today's hammer as validation that this was a successful retest.  Then it could allow the uptrend to resume, perhaps later this week.
In the case of the SLV silver ETF the support range comes in at 35.60.  I should say that there is a small bearish triple P pattern on the daily MACD histogram of the SLV right now.  This is still unconfirmed and would be confirmed on a close below today's low in the SLV either tomorrow or later this week.
It still seems as though SLV is not finished with this run yet.  I still think there is upside to 40 range at some point and maybe even to 50.  Ideally tomorrow, the SLV will have an 'up day' and put the MACD histogram in a new potential bullish stance with possible follow on confirmation either Wednesday or later in the week.  It will be quite interesting given how many top calls there have been lately.  But sometimes top callers are right…