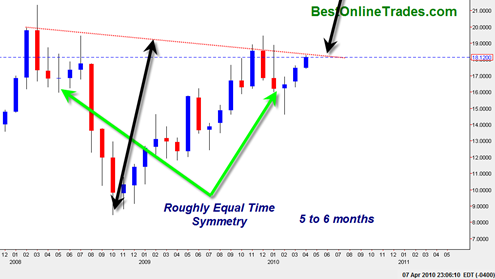 If I am starting to sound somewhat repetitive, I am doing it on purpose.  Here at Best Online Trades I like to try to focus on the best risk reward scenarios at any given time.  Sometimes they are short term scenarios, other times longer term scenarios.
What has me very keen and interested right now is the precious metals sector.  And now even more so, the silver sector.  One of the most under rated and under covered sectors worldwide, the silver sector (which includes the silver price itself and the silver mining stocks) may be about to come more alive than any other sector in the market place.
The issue is though which is the best area of silver to participate in assuming a new strong bull leg is coming ?  My own personal take is that the AGQ ProShares Ultra Silver ETF is probably the best way to play the likely coming move in silver.  The AGQ is leveraged twice positively towards the silver price.  So if the silver price manages to make a 100% run in the next 1 to 1.5 years, then AGQ should perform close to 200%.
Now tell me where else in the next 12 to 18 months can you expect a 200% return? In the stock market ?  Bond Market ?  Real Estate?  Probably no, no and no again.
Individual silver mining stocks should get a good run going as well.  But since I have been watching the precious metals mining stocks since 2003 I can say that in general I have been usually disappointed in many or even most individual mining stocks performance relative to the metal itself or even ETFS.  There are just too many uncontrollable variables with the individual miners.  Why take all that extra risk when you have leveraged ETFs? I suppose it comes down to a question of greed since in some cases you will find individual mining stocks (juniors) go up by factors of 2, 5 or 10 of most other instruments.
There are additional silver stocks that trade on the Canadian exchanges that might be worth a try for the most speculative type of moves from a silver run.  First Majestic Silver Corp is one that comes to mind (symbol FR) on the Canadian exchanges.
Of course the traditional silver mining stocks are
Silver Wheaton Corp (SLW)
Silver Standard Resources Inc. (SSRI)
Pan American Silver Corp. (PAAS)
But again, in my opinion the AGQ is the probably the best way to go.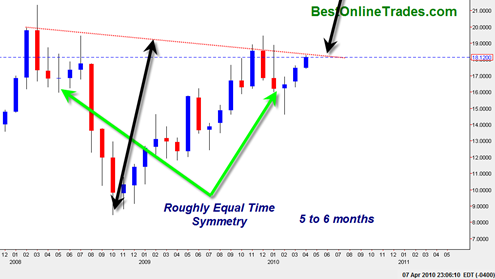 I may consider some long dated call options on either the SLV or the AGQ as well.  A breakout from the head and shoulders bottoming pattern above is not guaranteed and as of now we have no real confirmation.  And seasonally, April – May seems an unusual time for a breakout and strong new uptrend.
But the chart does seem to be saying in terms of time symmetry on the left and right shoulders that we are coming near a breakout type move.  The chart above is the spot silver price.
The chart above is very enticing when you consider that silver could make a full 9 to 10 dollar move higher from here.  But it is important to note that such a move may take a full 12 to 18 months (guesstimating) to evolve.