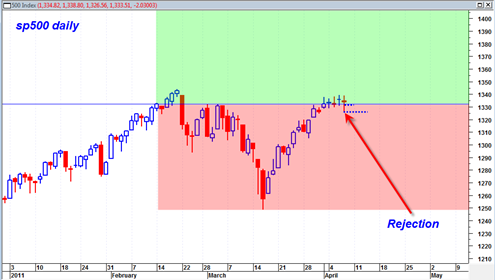 Today my take on the market is that the sp500 did a quite sound rejection of below the 1332 level.  The bears had every opportunity today to seal the deal and get this baby of a market to CLOSE down town below 1332 AND at the same time confirm the recent cluster of doji candlesticks we have seen for the past several days.
Did they get the job done? In a word.. No.
The sp500 dipped its toes into the still icy cold early spring water and decided not to jump in today.  Instead we closed back above the 1332 range and now gives the market at least a chance of trending higher again either tomorrow or early next week.
Having said that, today's reversal hammer would prove itself even more if the market can get a pop above it tomorrow to finish the week.  That would not only confirm the power of today's rejection, but it would also give the market a shot at confirming the weekly bullish MACD histogram setup which is still as of today unconfirmed.  Confirmation would come with a close above 1337.85 on the sp500.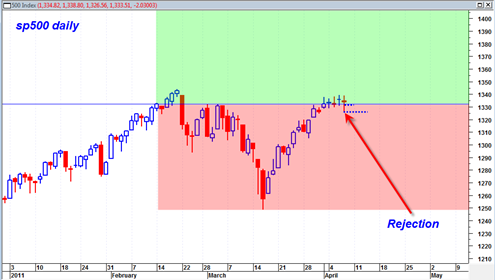 So the market seems to be behaving like it should if it is to remain in a constructive trend.  I am still somewhat open minded to the possibility that we could trade in some type of big trading range here between 1340 and 1250.  But in order to open the possibility of initiating such a range I think we would need to see a hard down close tomorrow under 1332.