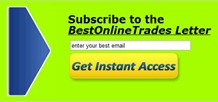 VG managed to hold key support above 4.5 today similar to the way the sp500 managed to REJECT under 1332 today.  So I like the symmetry.  I also like the fact that we have a small reversal hammer in VG today and a volume shrinkage of 50%, essentially creating a bullish spring.
So still long VG here and I would now like to see VG attempt to crawl back up to the top of the range, or the 4.80 level which makes sense given today's rejection.  After that I would like to see a successful move above 4.80 and then an eventual exit point.
In hindsight, maybe VG is not the best trade out there.  I think there are plenty of better trades, but now I am committed to VG and will roll with it a while expecting an eventual northward break above 4.80.  This may take a while, perhaps most of the month of April 2011, but I am willing to sit it out for a bit.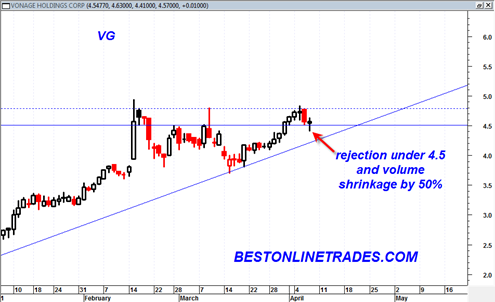 I actually found what I consider to be a better trade than VG today and I sent out a brief notification today to those subscribed to the Bestonlinetrades instant notification system (also known as the BestOnlineTrades Letter).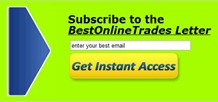 See the sign up form at the very top to sign up.  The BestOnlineTrades Letter is also the means by which I will be communicating with subscribers on the Mastermind Project ( more details on this eventually).
So if you are not subscribed you will miss out.