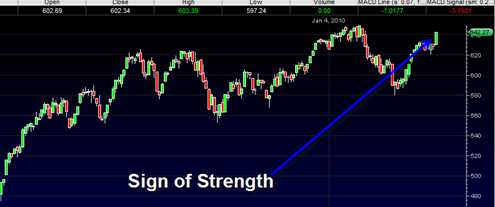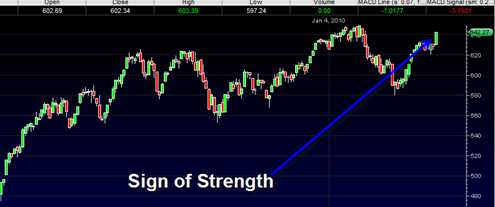 We are only inches away from the very important 1116.56 on the SP500 that I talked about in previous posts.  If we can trade above and through that level with some conviction then the bulls are likely to have a field day causing another round of short covering from the bears.
The Russell 2000 Index of small stocks is surprisingly strong and today showed a sign of strength and looks ready to make an attack on the old highs once again.  I am also noticing that the WEEKLY MACD is coming close to a bullish cross on the Russell 2000, another bullish sign.
Clearly this is a market that is a combination of a trading range type market with a bullish bias.  When I look at the depth of the market I am still seeing plenty of stocks with nice long consolidation ranges that are constructive enough to warrant new bull legs up.
Despite today's nice action, one cannot rule out a sharp and messy swing trading range type market at least as far as the indices are concerned. 
So the advantage at this point from what I am seeing is clearly identifying bullish stock setups and then going with the flow.  Selectivity is key. 
I suppose going long the indices at this point could lead to some modest gains but the problem with the indices is the simple fact that they are a melting pot of stocks, half of which are broken down pretty badly, and the other half which are quite healthy.  So that leads to frustrating swing trading ranges in the indices that are hard to predict.
As the days turn into weeks and the weeks turn into months, this market is speaking to me more and more and what it is saying is that the deflationary 'crash' scenario is false and the inflationary mega trend scenario is alive.