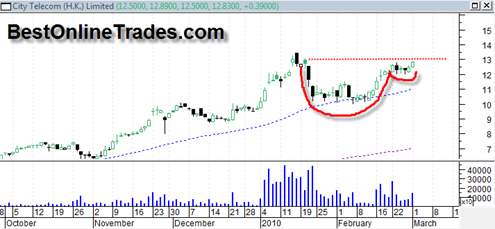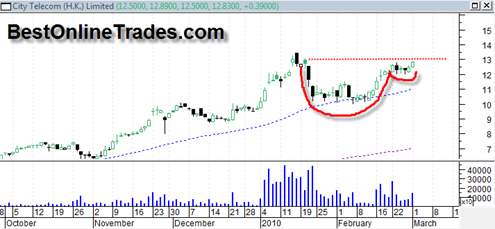 CTEL City Telecom Limited is another China Stock that has some major momentum and volume behind it for months.  If you look at the price chart of CTEL you may get a bad case of Acrophobia (fear of heights) as the stock has been powering higher very persistently and most recently done so on robust volume.
But remember that famous quote from Jesse Livermoore (it is worth repeating again and again):
" A stock is never too high to buy and never too low to short "
This seems to be the case right now with CTEL as well.  In the chart above I have drawn in a small cup and handle formation pattern which points to a possible breakout coming soon above the 13 and change level.  It points to a rough target of 15 assuming everything happens according to plan.
CTEL is behaving like a good dog, oops I mean good stock, as it has touched and bounced off of its 50 day moving average line (blue dotted line) and then shown a nice price reaction off of that level showing continued demand.
CTEL is a potentially nice setup here.  Assuming a successful move through 13 and change level, then protective stop easily placed near 12.5 level or slightly under 12.