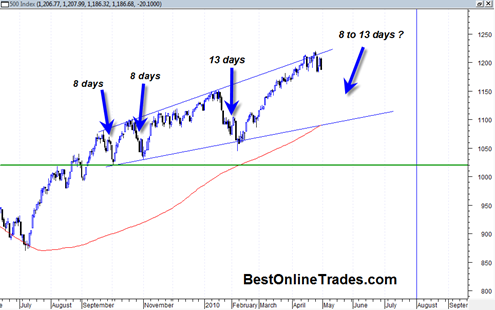 My fearless forecast for May 2010 for the Sp500 is a fairly swift decline that occurs in the first 3/4 of the month of May 2010. 
It appears as though the SP500 is still trading within this somewhat large ascending broadening wedge formation that should lead to a rough target of 1120.  Whether we get there in May is and open question.  But I certainly think it is a decent possibility considering how fast the previous three price corrections were within this ascending broadening wedge formation.
The first two legs down occurred within about 8 trading days and the third was about 13 trading days.
Will this leg down occur within may and be between 8 and 13 trading days ?  I think it could and it would be somewhere within the neighborhood of a 10% correction.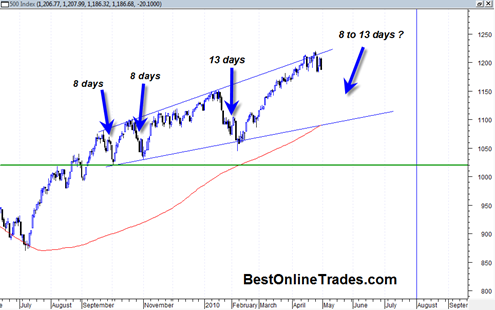 I think most are not really open to such a large and swift correction at this point.  The recent persistent rally has 'trained' a lot of people into believe that the market must always be up on Monday and usually Friday as well and that anything greater than a 1 to 3% correction is very unlikely.
The solid green line in the chart above is the typical measured target of this ascending broadening wedge assuming all goes according to plan in the weeks ahead.
The very high volume that has come off of the recent highs has given me extra confidence that this correction will soon be underway.  When you see high volume down candles like that off of such a euphoric persistent market high, be very keen to markets next move.
Breaking under 1180 would be a key signal that the market is ready for another leg down.