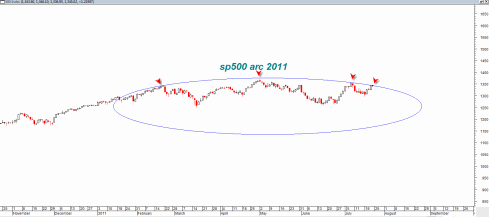 This Elliottwave site makes a comparison between the 2007 and 2011 time frame to argue possibly that we are at a similar juncture for a break down as was the case in 2007.
Recently I have also done a 2007 2011 comparison with respect to the head and shoulders bottoming formations that were occurring near market highs.  The comparison is compelling and the elliottwave argument is also compelling.
Having said that I have to admit that the recent talk by politicians and TV network pundits on how the stock market will crash this Monday if there is no debt deal is quite concerning from a contrarian standpoint.  Suddenly the politicians and the TV talking heads are expert stock traders and can predict a market collapse this Monday?
Something does not click here.  From a contrarian standpoint I have to say that all this 'market will dive' talk unless there is a huge deal by end of this weekend is concerning.
The typical pattern in the current market has been that something large was feared, but then the government came through and everyone sighed relief and the market shot up 300 points in a day and was off to the races. 
At this time I cannot entirely rule out the upside bullish scenario. 
I am looking for a confirmation of weakness from the current price level to see if the H&S pattern on the sp500 can complete and continue to turn the longer term indicators into more confirmed bearish territory.
The other observation I would like to make is that in both the 2007 and 2011 periods there can be constructed a very minor sloped arc over the recent peaks which seems to serve as an early resistance point.  Of course with a huge upside rally this week, the minor arc resistance would be invalidated almost immediately.  It would not take much or a rally to bust it.