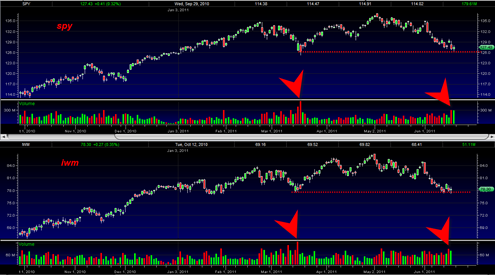 Looking at the charts today of the SPY and the IWM Russell 2000 ETF today has me thinking there is a 50/50 chance of a major gap down break down tomorrow or a break up that holds support.
Both the SPY and the IWM are on a support range, and both have seen volume start to become heavy as we have approached the support range.
In the case of the SPY we have so far fallen far short of the 467 million March 13, 2011 swing low volume.  The last two days on the spy we did 300 million share volume days.
The IWM has also fallen short on volume recently and looks like today it did a mini shakeout and spring testing the swing low of 3 days ago and then closing back up inside the range.  It is unknown to me right now whether that is a valid rejection or not.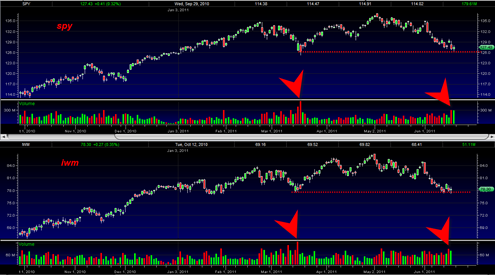 Honestly this market could go either way from here.  And it is worth pointing out that with option expiration tomorrow we could see some very heavy volume come in if we happen to get a gap down and it might be enough to get close to the 467 million SPY volume of March 13, 2011.
The market has been drilling down the last several days and one could say that it is building steam for a break down through support.
So tomorrow should be interesting either as confirmation of support, or a strong violation of support.  I would rather not guess at this point which one it will be. I think I could make a strong argument for either case for now.
The summation index is in an area where a low could be forming, but it is also in a range where we could see more price washout to the downside.
So the bulls will probably say the IWM is doing a mini double bottom on the support range and will bounce higher… the bears will say it is building sideways cause for a break down through support… who wins ?