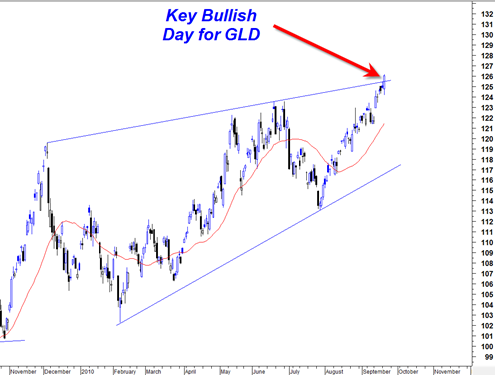 The GLD ETF today closed above the large rising wedge I alluded to yesterday and did so on very robust volume.  This was a very clear and powerful signal today for the GLD ETF and in my opinion now clears the way for much higher prices.  The gold market is now telling us in no uncertain terms that it wants to power higher with even more trend strength.
The GDX gold miners index also showed a very powerful reversal hammer on much higher than average volume.
These two ETFS are now in a stance to continue to trade higher with more confidence than any time previously in my opinion.
The UUP ETF today took a major beating on higher than average volume and also tested, pushed against and closed under an important price swing on 63% greater downside volume which appears to be confirming not only the down trend but all the large head and shoulders topping formation in the UUP ETF.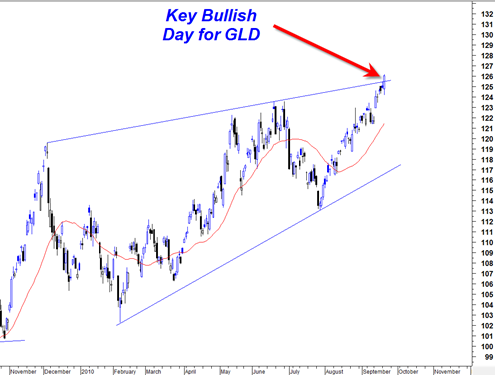 It is nothing short of astounding how the gold market continues to perform in bullish market fashion and evade bearish signals time and time again.  The trend would not be this strong unless the collective whole already knows what is coming.  My guess on that is a heavy dose of inflation, and the US Dollar chart seems to be confirming that.
The break down in the UUP ETF today on high volume says plenty more upside for gold and likely the stock market as well at the expense of the paper dollar.
I suspect that a lot of traders/investors are afraid of the gold market now because it is 'too high', but remember that no stock or index is too high to buy or too low to sell according to the trading great Jesse Livermore.  By that he meant that when the bull crowd is in full control, your odds on the long side are substantially improved.  The key is in trying to identify the strongest primary trend.