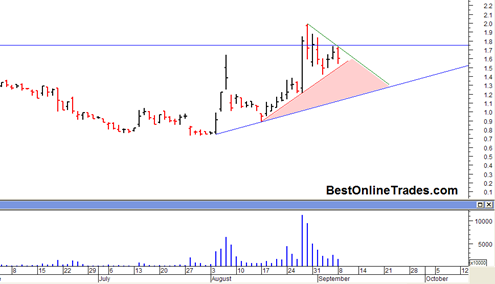 Despite how lousy the broad market has been lately and will probably continue to be, I am still watching ABK Ambac Financial for a possible buy setup.  I would like to see ABK get over 1.75 and also see volume come in heavy again.
I am thinking that ABK probably will not be able to do that until a couple more weeks consolidation.  I could be wrong, but that is the theory I am running with right now.
ABK's business is supposed to be dead right now along with the other bond insurers because they are not writing new business.  But then why are the stock prices trending up so bullishly? The stock prices are powering higher apparently because of an uptick in home sales which could mean lower losses on mortgage backed securities.
But as you probably know by now I am not a 'fundamental kind of guy'.  I am more a technical analysis kind of guy (that sounds bad doesn't it ?).
And I like how the technicals have been developing in ABK and the other bond insurers.  The huge volumes coming off of the bottom is what really gets my attention.  In addition ABK so far since early August has had two huge signs of price strength that were coupled with big volume.
This type of price action is telling me that ABK may have a good shot at getting a breakout over and above the recent highs.  The only difficulty is the timing of such an event.  I am thinking such a breakout will be delayed for another week or two as we consolidate into the red shaded area. 
However, if the broad market somehow manages to bust out topside and void any chance of a deeper correction, we could see ABK hold support of the red uptrendline and get a new move much sooner than anticipated.  I don't expect that, but it is a possibility for now.
I am going to be watching ABK like a hawk the rest of this week and I might as well focus on it exclusively and perhaps a few of the other bond insurers.  There may be other setups out there but I haven't been able to find them or have been a day late in finding them.  Nothing good came up in my scans either today.
The improving real estate picture is a slow moving event, but if it is a real turn around, or at the very least an upside fibonacci retracement bounce, then we should see move improvement in the bond insurers in my opinion.  The charts are saying so.
Lets see how the consolidation plays out.  Updates to follow…
P.S. A few other bond insurers I keep an eye on are MBI (MBIA Inc.), PMI (The PMI Group Inc.) and RDN (Radian Group).