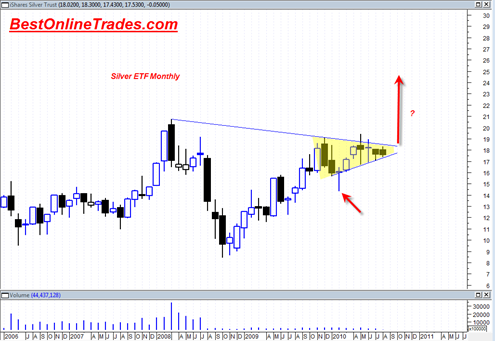 The long term iShares Silver Trust (ETF) monthly price chart of the silver ETF is showing that it is compressing into a 9 month symmetrical triangle that also appears to be the right shoulder of a much larger head and shoulders bottoming pattern.
If the iShares Silver Trust (ETF) can get a move going to 18.60 and higher during the month of September 2010 it could suggest that this metal has entered a breakout mode from a very large head and shoulders bottoming pattern and also a breakout from a 9 month symmetrical triangle.
The 9 month symmetrical triangle in silver is about as compressed as it can get.  Any more compression risks weakening the eventual resolution.  So it would appear that September is the month of decision out of this pattern.
I suspect that the gold price will blast higher in August 2010 and drag silver higher as well.  Strict discipline still tells us that the breakout could move in either direction, but the weekly confirmed MACD histogram buy signal in the gold price is hinting to me that the break will be topside.
This breakout has the potential to be quite spectacular as silver has 9 full months of energy built up to feed from.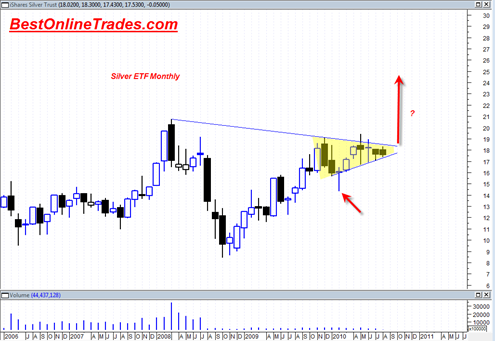 The doji reversal hammer pointed out with the red arrow in the chart was a very key monthly turning point for silver.  It was a defining month for this metal and showed real demand and returned silver to further accumulation.
The action during the last two months has clearly been very narrow range and pretty much put everyone to sleep.  Usually when markets are done doing that they burst into high volatility states and end up surprising the majority.