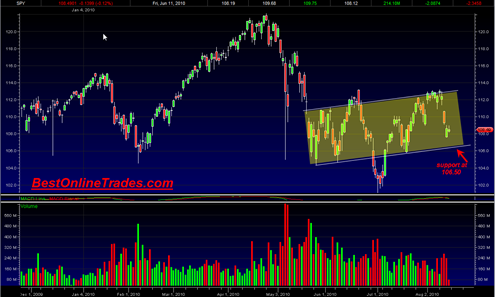 By all current appearances we seem to be stuck in typical lazy August trading in the SPY ETF.  The volume today looks to be quite lame and typical of this time of year and makes it hard to speak with any conviction about the next big trend.
Instead of conviction, the SPY continues to trade like a bouncing basketball between a large swing trading range.  Volume continues to contract within this trading range and is likely to finish today at a relatively low level of the recent average range of volume.
If there is going to be a big decline still yet to come it would seem that the only place left for it to happen would be in early September.  There are a little bit more than 10 trading days left in August so perhaps the SPY ETF will get another typical low volume rally the next two weeks and then another drop that starts with more conviction in early September.
But the current read is that the market got quickly oversold again and is still contained within the large trading range.
I mentioned before about how if we were going to break support then the market needs to show us it wants to do so quickly and to show it with high volume.  This has not happened.  Instead it appears once again that we are lingering near support and could start to move in a stance for another reversal topside.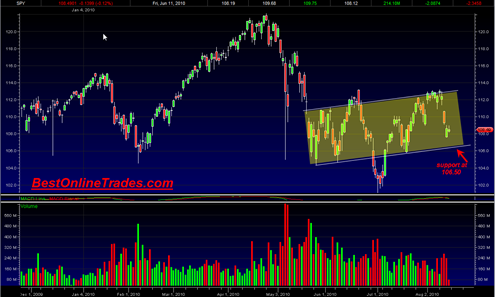 The summation index looks like it may start to transfer into a sloppy sideways drifting mode leaving little conviction about the next trend.  Still, a bearish cross of the 5 day exponential moving average over the 10 day exponential moving average should be a sign of momentum shift in the market.  Ideally when that shift occurs the market will also confirm it by breaking key support levels.  If it does not then it is saying we are just consolidating instead of doing a robust trend change.
Anyway for the near term 106.50 is the must hold level in the SPY ETF in the days ahead to keep it constructive within this trading range.  A break under there and it could start to open the doors to much lower levels.  But again as I already mentioned, it seems unlikely this would occur in the next two weeks.