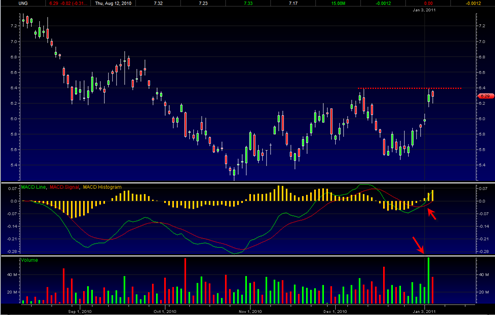 There exists a possible buy trigger in the UNG ETF at 6.40 or higher.  Natural gas futures have a nice 1 year consolidation pattern on the longer term chart and the recent multi week up move initiated itself after a very convincing looking monthly reversal hammer.
I think it is possible that the mega bear market in natural gas futures is over for now.  Most other commodities have been trading higher for quite some time now on improving economic 'fundamentals' (ie. higher demand coupled with commodity scarcity).  It would seem to make sense that the factors that have made other commodities shoot dramatically higher would also eventually have a positive effect on natural gas.
The decline in 2008 was so fast and so deep that it is only natural to expect a 1 year bottoming process.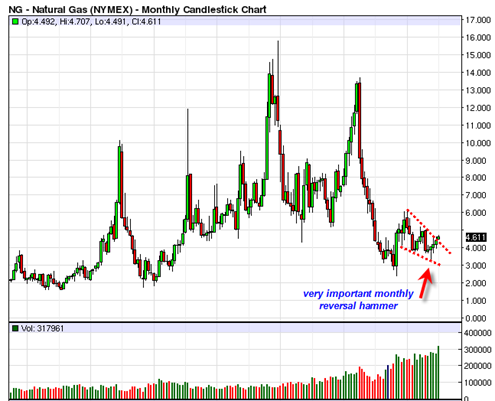 For the longer chart to remain bullish, natural gas futures need to hold ground at 4.6 or higher during January 2011 and ideally we would see it trade at 5.00 or higher on a monthly closing basis for stronger confirmation that the bottom is in.
This is not the first time I have attempted to call a bottom in the UNG ETF or the natural gas futures.  In all my previous attempts we never had a very strong reversal signal and we clearly did not have enough price basing action.  But now we have this very convincing falling wedge pattern, the low of which shows a very convincing looking long legged reversal hammer.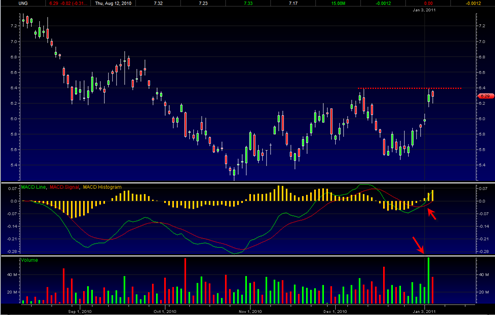 So the UNG ETF looks quite good at 6.40 as a buy trigger to move higher from here.  The volume yesterday in the UNG also helps as a clue that we could exceed 6.40 in the days/weeks ahead.