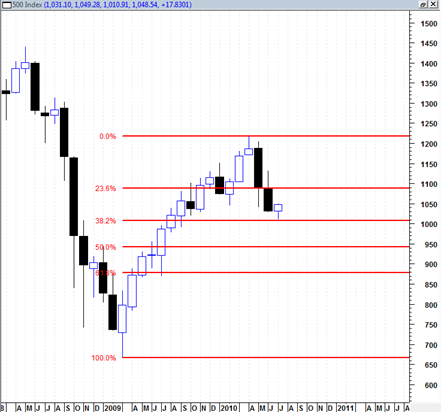 Well it is official.  I am pulling the plug on any crash scenario.  It took too long and there are bullish divergences all over the place right now between price and MACD.  This was not the case in 87.  There was a moment in 87 scenario were the possibility existed for the market to turn around into a bullish divergence, but it did not occur and the market fell apart after that.
However presently the macd histogram and the macd itself is printing a bullish divergence between price and the indicators.  This is a bullish sign and usually leads to follow through.  That follow through will likely take us into earnings and there is a risk of even more follow through during that time frame.
I would rather pull the plug now rather than sit around hoping for bearish feelings to be proven.  I can't fight with the charts and the indicators.
I am also seeing a bearish divergence between price and MACD on the bonds iShares Barclays 20+ Yr Treas.Bond (ETF).  So we could see a big sell off in bonds and have that money pump into equities as we get into earnings.  I suspect that the earnings are going to be good and people are going to realize that they were too bearish on equities.
A high unemployment rate does not necessarily mean that company earnings are going to crater.  There have been very long extended rallies with persistently high unemployment.
At this point I think it is a mistake to hold onto a bearish stance in the hopes that we somehow start to collapse immediately after today's rally.
I realize this is a complete change in opinion.  The only thing that will get me bearish again here is a rapid decline that breaks under recent lows.  There is still the 1070 level that I indicated before could be a stopping point and then a reversal point.  But still for now I am looking for neutral to higher in this market.
One chart that really bothers me as far as the bearish side right now is the long term chart from the March 2009 lows.  You can see clearly that we just recently stopped at the .382 retracement level of the entire rally that began in March of 2009.  Any market or stock that only retraces to the .382 fibonacci and hesitates or 'never' goes any lower than that is by definition a very strong market in a very strong bull trend.
Notable also is that the current monthly candlestick has tested the .382 and has now bounced strongly higher.  We are still early in July and this candle may not expand to the upside perhaps longer than is currently believable.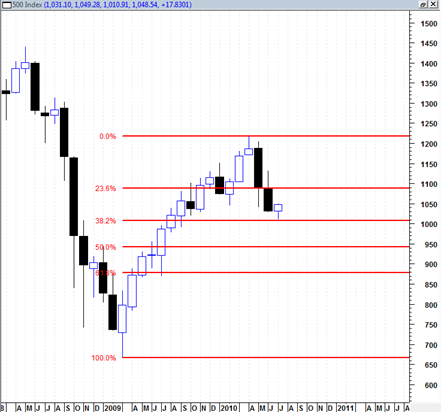 I am not saying we are in a new bull market, but at this point I have be very careful about latching on to other popular bearish assumptions such as 'deflation' , 'depression' and other heavy bearish terms that seem to be turning into a religion at this point.
If this week turns out to be an up week then it could start to curl up the weekly macd histogram starting next week, so it may start to turn up the weekly trend.
So again I think it really important to keep a very open mind at this point and study the tape carefully. 
The depression – deflation collapse scenario is not a guaranteed scenario as much as it might seem that way at the present time.
At this point I am not willing to turn into a bull but there are some important down trendlines on the sp500 near the 1090 level that if broken topside will potentially turn this market into a new bull.
There are also some other charts that span quite a long time frame that could indicate quite a strong bullish scenario later this year.  I will be posting some of them in the days ahead.