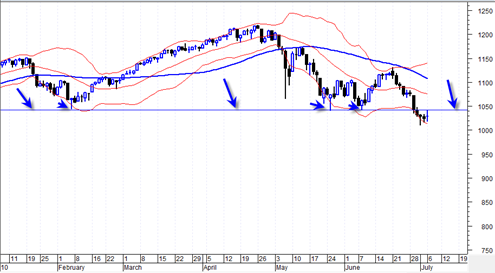 Lets drop the crash fantasy thing for now… Based on today's action we can clearly see that the sp500 tried to rally above the 1042 level but then failed at breaking through.
This 1042 level is really very important as a resistance zone.  Perhaps I am stating the obvious but it is true.  And to be honest if we are to expect more rapid weakness I really would rather not see a full price bar break above this level and back into the range.  If it did it may evolve into a 2B buy signal and could propel the market higher up into the range, even the 1100 area.
I would rather see this market pinned down under 1042 in the days ahead.. it is a very important resistance level.  There is also a sort of broadening triangle that has formed and it could mean more rally is coming…  But that is going to depend on a break above 1042.  So again, for the sake of the ultra bearish scenario I hate to see us jump over that level with conviction…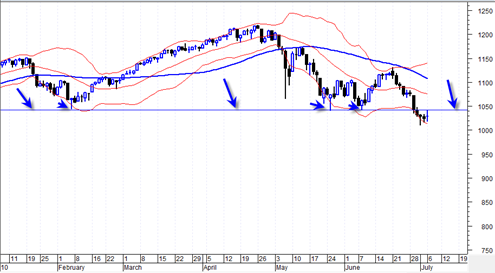 I must admit I am starting to think this is taking too long..  the tape is still bearish, but this broadening triangle is bothering me.  And I am going to be bothered a lot more on a move with conviction over 1042…
But strangely enough that one day last rally in 1987 on October 13th also thrusted back into the trading range.  But then the next day broke back down below it easily.  If we blast to 1050, 1060 or 1070 then it would really be necessary to have the market break down very quickly again back under 1042, otherwise the risk rises substantially that the market trends up to the top of the range again possibly near the 1100 area.