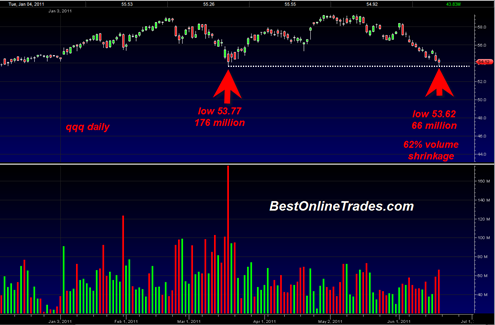 I do not know why I did not notice this before.  Perhaps it is because I have not been following the markets as closely as usual.  I have been a bit pre occupied with other business lately and have not gone into as much depth on various market indices as I normally do. 
But I just pulled up a chart of the QQQ and it has me now thinking that this market has bottomed out based on volume.  Yes, just 2 postings ago I wrote a post on how the market now looks like a 50 50 proposition in either direction.  But after looking at the QQQ, it makes me think the market is already saying it has rejected the lows today based on volume and price.
Look at the chart below to see what I am talking about.  This is basically what market analysis boils down to, volume and price.
We today tested a very important previous March 13, 2011 high volume swing on 63% less volume and then closed back up inside the range.  That is a bullish spring based on volume and says the bottom is in.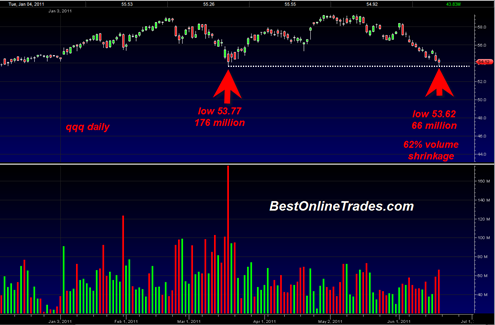 The 'trade' here is a stop loss at 53.70 on the QQQ. And then going long sometime tomorrow during the day assuming the market is able to hold up reasonably and show that it wants to get a northward reaction off of this spring.
The only problem with the above analysis is that todays reversal hammer and volume rejection was done with a less than ideal looking reversal hammer.  The bottoming tail on today's reversal hammer is short and there was no real flush out today.
It would have been much more ideal to see a very long bottoming tail and reversal hammer today.
Whether or not that factor leads to a failure of this volume rejection is unknown.  But if we ignore the candlestick appearance today, we still have a volume and price rejection.. Lets see what kind of follow through (or not) the market shows tomorrow.