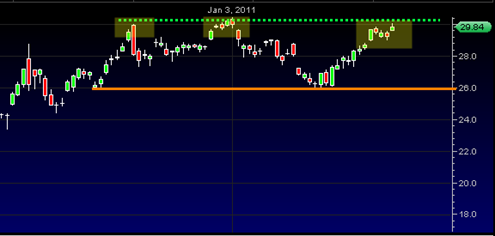 The SLV silver ETF has powered back very close to its old all time high range of 30 and is at a crucial juncture right now.  There have been some top calls in both the gold and silver market lately and with good reason.  Both metals have made astonishing moves since their late August 2010 pivot points.
It is quite common for the SLV and GLD to trade in long trading ranges after they revisit previous important swing highs.  One just has to look at past swing trading ranges in both metals to see this.  The flip side is that we are in the much more mature stage of a possible parabolic type move in the metals.  That trading dynamic favors a scenario where swing trading ranges are shorter in duration.
If the SLV is able to get a real sign of strength breakout above the 30 range and hold it, it could imply that an eventual move to the old 1980 high range of 50 is coming.
Breaking above the 30 range could initiate a true parabolic type move in silver futures and the SLV silver ETF.  But until it happens I think we have to assume that we will remain in the current trading range.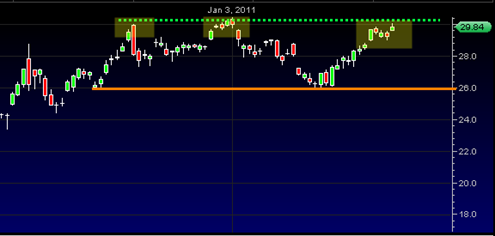 Speculating a bit further I would say that today's read of the tape action does look promising for a possible northward break.  The last 5 trading days have shown no immediate coming of supply into this market unlike the previous visits to this range.  This is a constructive sign.
The SLV tape action is worth watching very closely in the days ahead for further clues on the next big move in this super strong sector.  If the trading range is to continue to develop then we might expect to see the start of some down gaps or downward trend later this week.  If that does not occur then the bias switches to the breakout scenario.