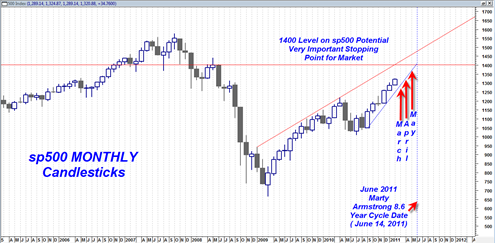 The more I look at the monthly sp500 chart the more I am thinking this market is going to stall out near 1400 or June 14th, 2011 whichever comes first.  Given the current degree to which the market is overbought it seems like a reasonable forecast.
1400 on the sp500 represents multiple resistance zones which should make it difficult for the market to progress dramatically higher.  There is the very long top channel line resistance zone since the bear market lows of 2009.  Then there is the horizontal resistance zone of 1400.
All these resistance zones fit nicely into the mid June 8.6 year Marty Armstrong Cycle turning point.  I have to be careful to 'over play' this cycle turn date until there is more price confirmation that it will be a significant event.  But for now this is my longer term speculation about what will happen as we go into that time frame.
It is also possible that the 'final' gains the market will be able to product will be in February and maybe March 2011.  For example if both February and March 2011 are both strong up months then it would possible put us more quickly at the 1400 resistance zone which could then lead to a sideways distribution pattern leading to a final top near June 2011.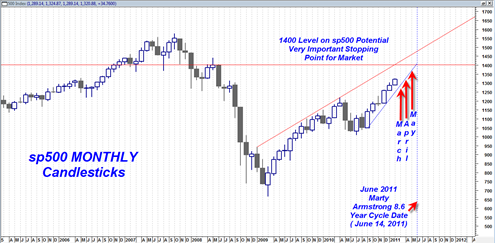 The above chart of the sp500 pretty much says it all.  It shows how the market could easily be carried along the current up trend line and into the resistance zone.  We are only working with 4 more months after February.