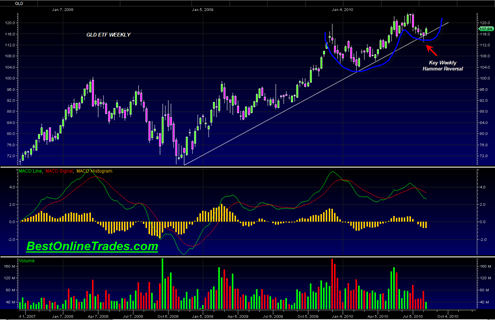 A while back I did a very bearish sounding post on the spot gold price.  My main points for making the longer term bearish case were based on a weekly bearish divergence, a break of the long term uptrendline and at least the potential of a monthly MACD bearish cross down the road.
Looking at the SPDR Gold Trust (ETF) right now I can clearly see that gold last week created a weekly hammer candlestick reversal that also tested the neckline of the previous head and shoulders bottoming formation at 113.08.  This week the price of gold has rocketed back up inside the up trendline space. 
As of now there is no weekly MACD histogram buy signal, but there will be one next week if the GLD can close above this weeks high.
It could be that once again the gold price has evaded a bearish divergence and may want to push higher in true bull market fashion again.  We could still get a trendline break later in the months ahead.  But this is now starting to look unlikely given that we are about to approach the super strong seasonal month for gold which is September.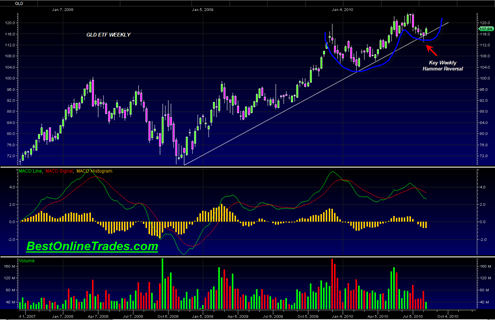 I have to respect this reversal in gold and now be open minded to a weekly MACD histogram buy signal and also a chance that we could be forming a handle of another cup and handle formation.
It has not exactly fully evaded the weekly bearish divergence, but it may be on a mission to do so during the next 4 to 8 weeks and should be watched closely to see if it can maintain strong composure above the 117 level ( on the SPDR Gold Trust (ETF) )
If we manage to get to all time highs again then I suspect the gold price will move faster than it ever has before.
I am quite shocked at the price resilience of the gold price.  The long term strength of this market is quite an amazing sight to behold.  Perhaps the only thing more shocking than gold's super strength is the dollars super weakness and overly large retracement.  The US Dollar index is retracing so deeply from its recent super spike that it makes one question all the talk about the dollar being in a new bull market.  It looks really weak now.
If the UUP ETF (US Dollar Index ETF) gets an August MONTHLY close below 23.68 it will confirm a MONTHLY MACD HISTOGRAM SELL SIGNAL !!!
And you know what the means right ? Inflation nation… and gold stock mega run…