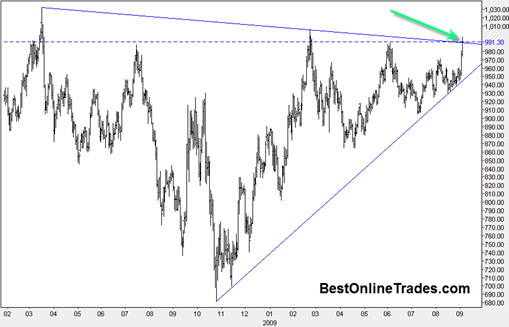 The spot gold price did a similar move to what occurred yesterday and without much help from the US Dollar.  The dollar continues to linger around and trade flat while gold seems to have a mind of it's own.
The significant technical event that occurred today (at least in spot gold) was a piercing and close above of the longer term down trend line in force on the spot gold price since March of 2008.  When we look at the GLD ETF, we had similar upside volume to yesterday.  So the longer term bearish down trend line was attacked with a significant volume surge and also pierced.
This is good news for the bullish case.  But what I would most like to see in spot gold is a full price bar above this longer term blue down trendline to show me that we have officially cancelled the bearish trend in existence since March 2008.
If you look at the P&F Chart you can see more clearly that we have a breakout in force.  But the more detailed daily spot gold chart above shows the more specific nature of the near term move.
I should also mention that we do have the employment report coming out tomorrow at 8:30 AM and we also have a full moon officially tomorrow.  Many times I have seen the gold price run hard right into full or new moons and then turn around quickly thereafter.
I don't know if that will be the case tomorrow. I sure would love to see another day of upside continuation in the gold price to get us in the full clear zone above the longer term down trendline.  But again, it is just one of those 'wait and see' type situations that we have no control over.
The broad market had a weak bounce going today and seems to be setup for another downward plunge.
So here is only a possible scenario for tomorrow.  The employment report comes out worse than expected and the broad market starts dropping fast and hard and the US Dollar also falls hard and Gold shoots up one more time to get us above 1000 from the added firepower of paper asset weakness and a plummeting dollar!
If things play out that way tomorrow I may have to pinch myself because that scenario just seems to predictable and too perfect and easy.