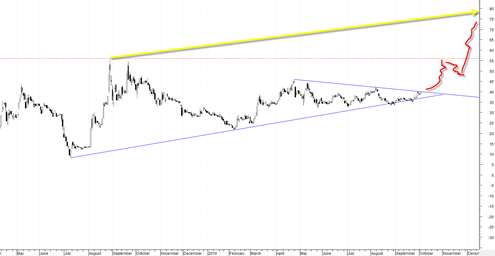 I went long the AIG January 2011 40 Call Options this morning.  Yesterday I did a post on how the market looks quite bullish into end of year and the bias should be topside fairly persistently.  Well if I have a strong conviction like that why not act on it?
I like the chart setup on American International Group, Inc. (AIG).  The price has compressed into a large triangle and volume is starting to move topside.  There are a bunch of other indicators I look at which I don't have time to go into now but the bottom line is I like the setup and I like the AIA IPO coming out in Hong Kong by end of this month which may be oversubscribed and may give AIG another kick higher.
I am thinking AIG could target 55 dollars before I close out this call option.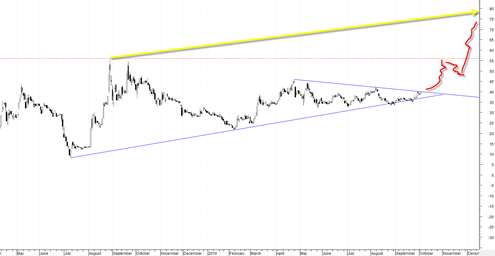 It could go much higher than that but my take is that the maximum hold point is until December some time.  After January the picture changes possibly quite dramatically.  The large upside versus down side is what makes this a very attractive setup into January 2011 in my opinion.