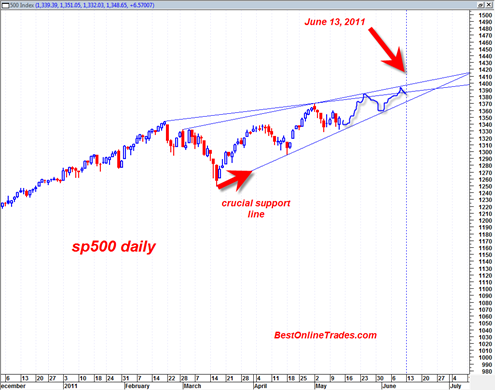 Today was a somewhat muted reaction to yesterday's negative price action in the sp500.  The volume was light and I got no real sense that the market is ready to show a heavy bout of weakness.
But I have been in this environment before and it is typically characteristic of the market to be very subtle and quiet before any major significant trend change is about to take place.  I could be wrong about us starting to form a top now and the market may revert back to my original theory of the sp500 moving to 1470 before any more sustained downside reaction is to occur.
The market should provide an more definitive answer about whether it is at a top level or wants to progress to 1470 within the next 20 to 25 trading days, or somewhat earlier.
The answer should come in the form of either an upside breakout from the rising wedge formation we are currently in, or a downside break down.  The parameters seem to be quite clearly defined.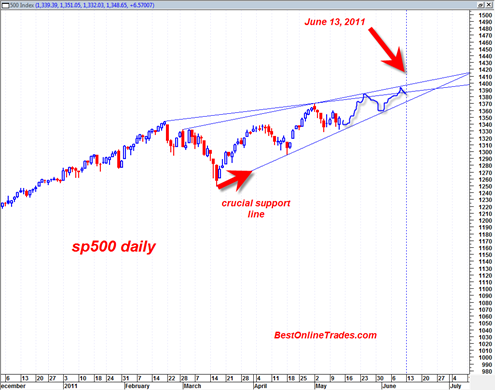 The possible rising wedges in the chart above seem to point June 13, 2011 as a potential turning point for a downside move.  This is just a highly speculative theory of mine for now, but it could work out if we continue to see the sp500 make limited slow and sloppy upside that is contained within one of the rising wedges above.
If the topside boundary is busted however then the wedge formation is in doubt and tends to cancel the near term topping prospects in my opinion.