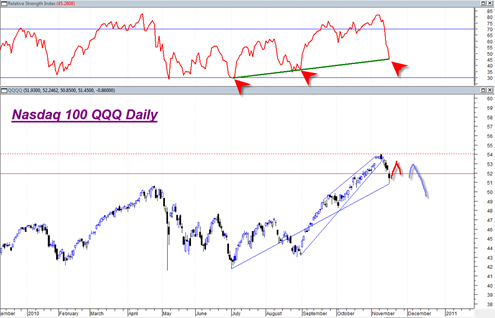 The PowerShares QQQ Trust, Series 1 ETF took a major hit today on above average volume.  The QQQ has managed to get into a deeply oversold level and is sitting at some important supportive ranges that should create some sort of bounce tomorrow and maybe the day after as well.
Similarly the DJIA broke below the level of 11,143 creating a 2B sell signal.  Momentum is clearly in the down direction now as seen from the McClellan summation index, daily MACD and several other indicators.
I have not been following the market closely enough in recent days and for this reason the recent signals I have put forth have been too quick and impulsive.  BestOnlineTrades nailed the top on 11/9/2010 with a BOT Short signal.  Since that signal there has been absolutely NO reason to switch to long again based on several important trend following indicators.  However, I tried to be a hero again early in the trading day the other day and switched to a long signal which was a very poor decision.
At this point I am not sure if I will keep posting BOT signals anymore.  Perhaps it would be better to just focus on longer term signals.  But trying to pick every little upside reactive rally as a long signal that may only last a few days in a longer term downtrend is ridiculous.   Since the BOT long signal in early September 2010 there really was no reason to switch to short until November 9, 2010.  But I did attempt short signals many times during the run up, most of which were whipsawed.
I correctly switched to the long signal on November 2, 2010 and then back to short on November 9, 2010. 
I may switch to a neutral signal after the upcoming bounce and then stop the signals for a while until I decide a better way to go about announcing the signals.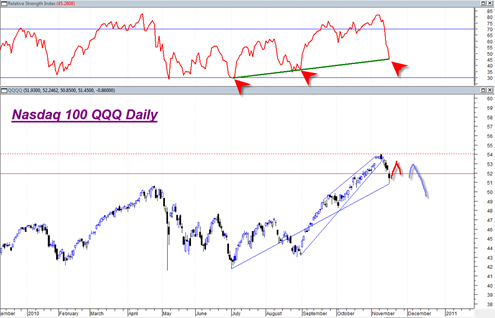 The QQQ is set up to bounce strongly during the next 2 trading days.  This should also occur in the other indices as well.  The speed with which the RSI has become oversold is quite amazing.  It is quite unusual to see the RSI drop in a straight line like that for so long.   Now we see that RSI is on the green supporting range up trendline and we also see a channel line that is coming close to supporting prices.
The nature of the upside bounce the next couple of days will reveal a lot of clues as to whether we have seen the low today or whether we are just at an interim low.
The red and blue drawn in potential paths describe either a situation of the QQQ getting a very strong bounce and then a higher low, OR a bounce and then a break down to a new low.  If the QQQ can manage to get above the 52 range and stay above that range it would be quite constructive as this level is a small supportive shelf that was created in late 2007.
The closing ARMS suggests that there is not enough fear yet.  Also the VIX and the US Dollar index indicate that the market has quite more downside to come.
The XLF filled its recent gap and at the lows touched into a very long and significant supportive range.  So there appears to be a bounce on deck starting tomorrow.  If the market can manage to get an extreme bounce, it may be enough to create a situation later where the market then prints a higher low compared to today's low. However, downside momentum is still early enough in its process that this seems unlikely.