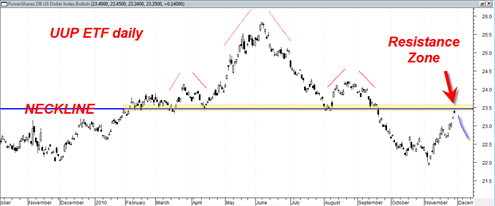 It is starting to look like the recent correction we have seen in the sp500 is coming to an end.  The stage appears to be set for some type of Christmas 2010 rally that takes the sp500 to possible new 52 week highs.  The reversal today was quite significant and occurred at the bottom of a somewhat small rectangle formation that was similar to the one that occurred in the very early September 2010 time frame.
Sometimes rectangle formations can serve as reversal structures instead of continuation patterns.  This may be the case again this time around. 
A number of ETFs including the Dow Jones Industrial Average DIA ETF showed a bullish volume reversal spring today were it tested the 11/16/2010 swing low on 36% less volume and then closed back inside the range.  This is a bullish reversal signal and shows that the selling potentially ended today.  It implies a move back up to the 1200 range again and a possible break through.  I will switch to BOT long signal on a break through of 1200 on sp500.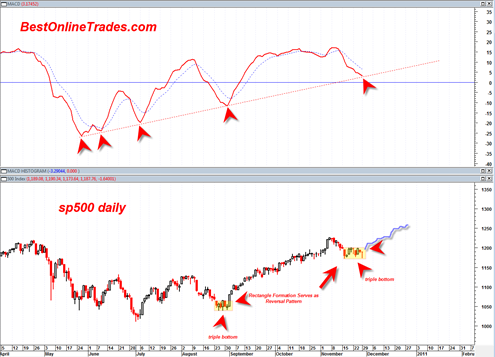 The chart above shows the rectangle formations and how they can serve as potential reversal patterns as well.  Note also the daily MACD finding support in the recent range.  Above 1200 and I think we have a Christmas rally on our hands.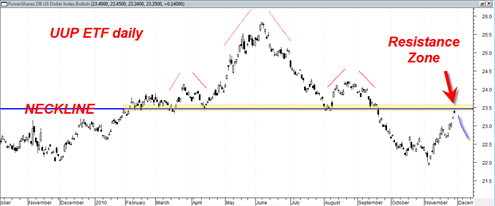 The UUP ETF is just about to 'bump its head' on an important resistance area and this would seem to support the case of a Christmas rally and possibly a Gold Price Christmas rally as well.
The UUP could pull back from the current resistance range but it does not have to imply that it will start a new down trend as well.  For now it may just be a normal retracement at previous neckline resistance of the previous head and shoulders topping pattern.
The Dow Transports chart looks particularly strong and the SMH semiconductor index does as well.
There is only 1 trading day left in November 2010 and the market may be able to evade the potential bearish monthly shooting star reversal candle I mentioned several other times.  We are in a key time frame now as we switch over from the November monthly bar to the December monthly bar.