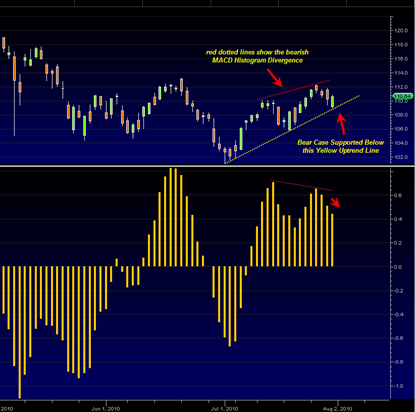 The market action today was definitely not very bear inspiring.  I have to be honest and say it was actually quite bullish looking on a short term basis.  We had the opening gap down near the July 1, 2010 up trendline and then a reversal to close higher on the day.
This was somewhat similar to the candlestick setup that happened on July 20, 2010 and that led to a 5 day follow through up move.  Actually there is a difference.  The gap down and higher close candlestick that occurred on July 20 also fully engulfed the previous day's doji candlestick and it closed right at the highs.  Today's candlestick (on the sp500) was more of a doji candlestick with a bottoming tail.
A 2B sell signal would be confirmed on a close below 1087.88 on the sp500.
Still, the MACD Histogram bearish divergence is still in force and the VIX volatility index looks like it is just inches away from a bullish MACD upside crossover. 
It is still a tough call right at this point.  As long as we are still on the July 1st minor up trendline one has to respect the fact that we could get momentum off of it and push upwards even for a chance at exceeding the July 27, 2010 swing high.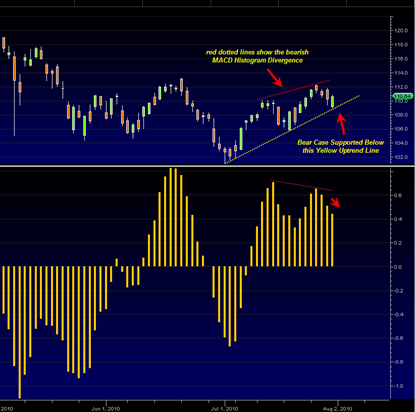 So my take is pretty much the same as it was yesterday.  The SPDR S&P 500 ETF needs to trade below 109 (1090 on the sp500) for me to start getting excited about any serious bearish follow through and something more severe to the downside.
The final weekly candlestick chart for many of the indices are showing just simply doji indecision candlesticks instead of strong reversal hammers.  So from the weekly chart all I can say at this point is that the current weekly uptrend is showing a pause.  For us to get a serious weekly reversal we need to close hard down next week below 1088 in the sp500 confirm the 2B sell signal and confirm a break of the recent up trendline.
So it would seem that a lot is riding on Monday, August 2, 2012 and as of now I am still getting mixed signals.  Being completely objective about today's action I would have to say the bulls won and that because they won right near this trendline test, they could take it higher right from the open on Monday August 2.
Until the bears take this market below 1090 or 109 on the SPY I cannot be pounding my fists on the table bearish yet.
P.S. I thought it was especially deviant how 'they' sold the market off right in the last 5 minutes or so of trading.  Maybe it was the Astro believers looking at the extremely negative Astro kicking in this weekend and the first week of August?  If this market blasts higher on Monday I might have to conclude that the Astro stuff is inverted and market may trade into them as a high instead of a low.  The other guidepost is the 7/27 swing high.  If that swing high is exceeded then for me it is pretty much confirmed that the Astro stuff is failing as far as the markets ability to trade down into them instead of up.